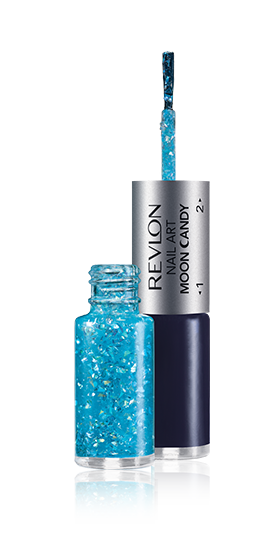 There's nothing we love more than beauty on a budget, especially when the product is actually worth way more than the price tag. "Cheap Trick" is our way of sharing our favorite wallet-friendly finds with the beauty world, so you can look great and have money to spend on more important things (like brunch with the girls).
While we're obsessed with nail art and seeing all the creative designs you come up with, we find that we don't have the time or patience to do nail art quite that intense all the time. That means we're all over anything that will make the latest nail art easier to do. Revlon has come up with a few nail art collections that include a tube with two color combinations so you don't have to figure out what shades go best together. The latest, called Moon Candy, is a collection of 10 shades and holographic glitter so you can get cosmic nails without buying gold flakes from the craft store (though your friends will think you did!).
Our favorite shade is Milkyway because the silver base and shimmery multicolored flakes is perfect for the holidays. Just apply two coats of the base, allow to dry, then apply however many layers of the glitter top coat you want. What's great about this combo is that if you don't want all-over glitter, you can achieve the glitter ombré effect by just applying the top coat on the tips of your nails. The base shades are gorgeous enough to wear alone and the formula is so good that you really only need one coat.
Where to buy: Target for $7.49.