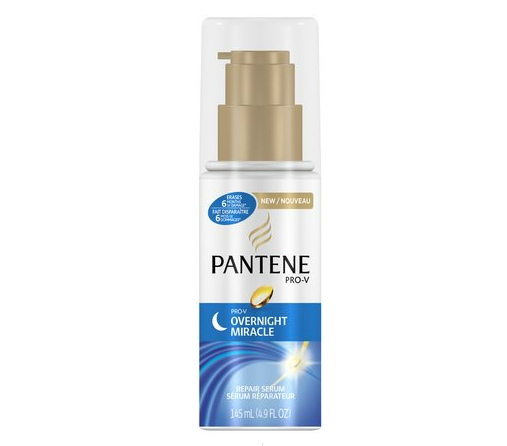 There's nothing we love more than beauty on a budget, especially when the product is actually worth way more than the price tag. "Cheap Trick" is our way of sharing our favorite wallet-friendly finds with the beauty world, so you can look great and have money to spend on more important things (like brunch with the girls).
When was the last time you went more than one week without damaging your hair in some way? Our guess is that like us, your answer is probably "too long ago to remember." Between heat styling, coloring, brushing and spending tons of time in the sun, our hair is in desperate need of some TLC. There aren't too many solutions to stop styling our hair the way we do (unless you were one of the lucky ones born with hair that dries perfectly after the shower), so finding products that will help repair our hair and let us continue to get the style we desire is a huge deal. After coming across the Pantene Pro-V Overnight Miracle Repair Serum, our hair won't stop thanking us.
Part of Pantene's Repair and Protect collection, the Overnight Miracle does just that. Apply it to your hair at night from root to ends, focusing on any parts that are more damaged than others (specifically the ends) and leave in overnight. It won't stain your pillow or make your hair greasy, but it will leave you to wake up with shiny, softer hair, erasing up to six months of damage. Your body does most of it's healing while you're sleeping, and your hair is no different. We're in love with this new little miracle, and we're even more in love with the price tag at less than $6.
Where to Buy: Pantene Pro-V Overnight Miracle Repair Serum, $5.95, Soap.com
More on Repairing Damaged Hair From Beauty High: 
Repair Damaged Hair at Home With These Treatments You Can't Beat 
The Expert's Guide to Which Vitamins and Supplements Will Make Your Hair and Nails Grow Faster
The "Burning Off My Hair" Video: An Expert's Opinion of What Went Wrong