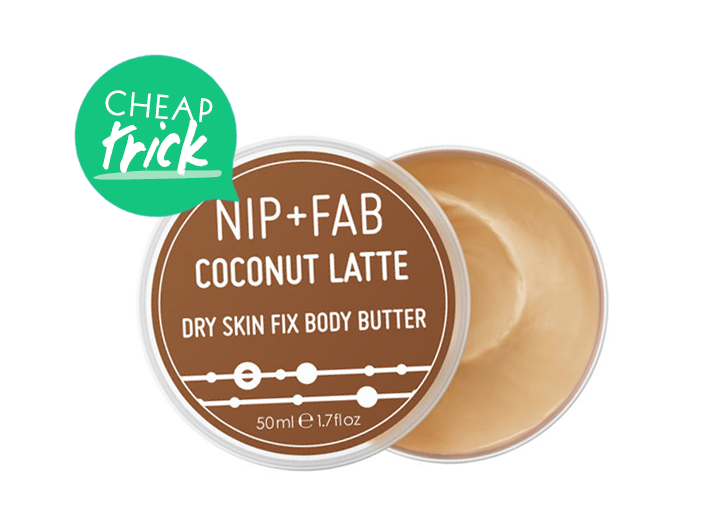 There's nothing we love more than beauty on a budget, especially when the product is actually worth way more than the price tag. "Cheap Trick" is our way of sharing our favorite wallet-friendly finds with the beauty world, so you can look great and have money to spend on more important things (like brunch with the girls).
We all know that with summer heating up, we'll be showing a bit more skin. While products like sunscreen, aloe vera (after some rough sun exposure) and exfoliation are important for maintaining protected, hydrated skin, moisturizing can tend to be swept under the rug while the temperatures are rising. Warm weather is no excuse for dry skin, so finding a smoothing moisturizer that you'll want to put on your skin is key. When we tried Nip and Fab Coconut Latte Body Butter, we were hooked (and so was our skin). Whether you're applying to dry skin, sun damaged skin or skin after shaving, apply this body butter and your irritated skin will practically melt before your eyes.
Packed with ingredients like mineral oil and shea butter, this body butter practically screams conditioned skin. Plus, as if it didn't already leave your skin feeling amazing, the smell is absolutely to die for. Its rich coconut scent transports you to the beach with the tiniest hint of a latte scent, too. Considering this little product fixes dry skin, leaves us with a heavenly scent and the price is under $5, we vote this an absolute home run in the beauty aisle.
Where to buy: Nip and Fab Coconut Latte Body Butter, $4.25, Nipandfab.com

More Summer Skin Care Tips From Beauty High:
What to Do When Seasonal Allergies Attack Your Skin
101 Best Tips For Clear Skin
Cheap Trick: Schick Hydro Silk Razor With Travel Cover