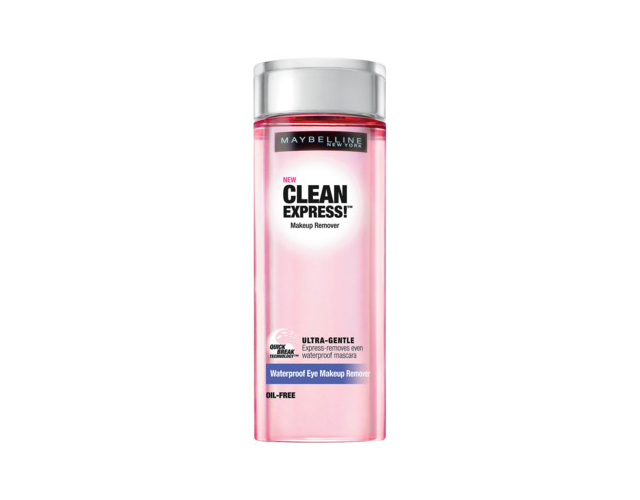 There's nothing we love more than beauty on a budget, especially when the product is actually worth way more than the price tag. "Cheap Trick" is our way of sharing our favorite wallet-friendly finds with the beauty world, so you can look great and have money to spend on more important things (like brunch with the girls).
On the never-ending quest for the perfect makeup remover, we've tried all kinds: liquids, wipes, cleansers, pads and even Q-Tips with remover encapsulated inside them. But, we have a weakness for the old-fashioned liquid removers, and have searched high and low for a product that will not only effortlessly remove our makeup, but also not irritiate our sensitive skin, won't require too much rubbing and won't leave us feeling oily.
Maybelline recently launched a few makeup remover and face cleanser products at the beginning of this year, and we instantly fell in love with their Clean Express! Waterproof Eye Makeup Remover. Not only is it a great bargain, but it also removes waterproof makeup easily (no rubbing!) and won't irritate your eyes or skin. Considering many drugstore brands charge much more than five bucks for a makeup remover and often leave a greasy residue behind (or half of your makeup) we're stocking up on this ASAP.
Where to Buy: Maybelline Clean Express! Waterproof Eye Makeup Remover, $4.99, Walmart.com