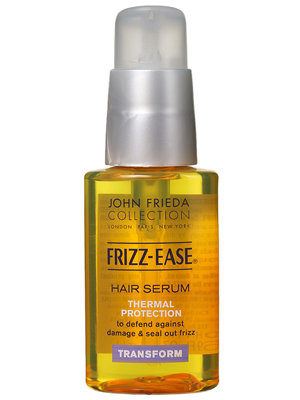 There's nothing we love more than beauty on a budget, especially when the product is actually worth way more than the price tag. "Cheap Trick" is our way of sharing our favorite wallet-friendly finds with the beauty world, so you can look great and have money to spend on more important things (like brunch with the girls).
Even though it's easier to manage our hair now that the humidity is gone, we still like a good formula that will fight frizz when we want extra smooth strands. We're also styling our hair more often to avoid stepping out into the cold with wet hair, so we need a good heat protector. Combine the two for a great price and you get John Frieda's Frizz-Ease Hair Serum Thermal Protection Formula. Just like the classic Frizz-Ease hair serum, but with the added protection against damage.
If you are constantly styling your hair with heat tools without a protectant, it's only going to add to the frizz, especially if your hair already frizzes easily. Tame frizz and prevent the frizz from happening with this hair serum. Even if you have thick, coarse, or curly hair, this will make your hair smoother and make it look healthier. For the price it's a great serum to use daily right after your shower. The thick formula provides a layer of protective gloss to shield your strands from any heat damage. It's an oldie but a goodie!
Where to buy: All major drugstores and online here for $7.99.