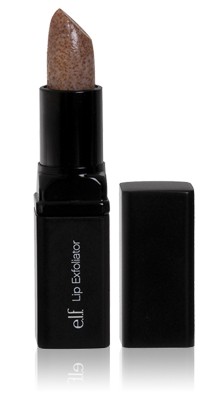 There's nothing we love more than beauty on a budget, especially when the product is actually worth way more than the price tag. "Cheap Trick" is our way of sharing our favorite wallet-friendly finds with the beauty world, so you can look great and have money to spend on more important things (like brunch with the girls).
Soft lips take a year-round, consistent effort, but the winter is an especially tough time to keep up with moisturizing. Between the cold air outside and the dry air inside, this time of year takes a toll on your skin. Finding a lip exfoliator is easy, but the packaging of the product can sometimes be more trouble than it's worth. Using your finger to apply product is fine but it tends to get a bit messy, so when we found a lip exfoliator that's easy to apply and worth the price tag, we had to share it with you.
e.l.f.'s Studio Lip Exfoliator comes in the form of a lipstick, so your hands stay clean while your lips are on the road to becoming smooth. Apply the exfoliator in small concentric circles, moving from one side to another. Once you've applied the product, simply remove it with a damp towel or makeup sponge. Afterwards, put on some lip balm to seal in moisture and keep your lips smooth. How easy is that? Plus, the best part: the exfoliator only costs $3. That's what we like to call a win-win.
Where to buy: e.l.f. Cosmetics Studio Lip Exfoliator, $3, eyeslipsface.com