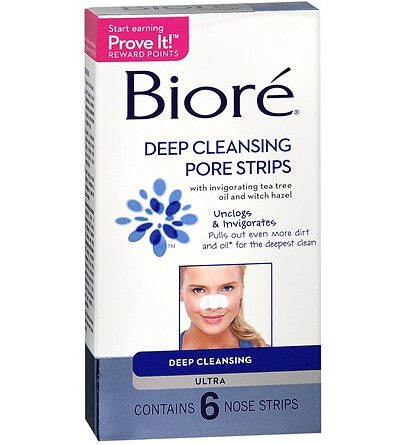 There's nothing we love more than beauty on a budget, especially when the product is actually worth way more than the price tag. "Cheap Trick" is our way of sharing our favorite wallet-friendly finds with the beauty world, so you can look great and have money to spend on more important things (like brunch with the girls).
When it comes to pores, we often forget about these magical little things called pore strips. Blackheads are commonplace on our faces, and luckily they can be easily remedied with pore strips from the drugstore. Biore Deep Cleansing Pore Strips lock onto your skin to remove the dirt that causes unwanted clogged pores (and the blackheads caused by clogged pores). These strips minimize the size of pores on your nose and attack blackheads right at the source. Using tea tree oil and witch hazel, they remove impurities from the skin without harm.
Each pack comes with six dermatologist tested and hypoallergenic nose strips. First, remove the clear backing from the strip and apply sticky side down to your nose, being sure to cleanse your face prior to application. The strip will not stick to a dry nose, so dampen  your skin with warm water, then pat down the strip to ensure there's good contact with the skin. Allow for the strip to sit for 10-15 minutes until it's stiff to the touch. Then,  gently remove, pulling up from the center. We recommend pulling the strip quickly (like a Bandaid) to minimize any pain while removing the strip. Each time we use these strips we're amazed by their effectiveness, and we still can't get over the fact that they cost less than $6.
Where To Buy: Biore Deep Cleansing Pore Strips, $5.99, Walgreens.com
 More Clear Skin Tips From Beauty High:
101 Best Tips For Clear Skin
Acne Scars and Dark Spots: What You Need to Know For Clear Skin
8 Dark Spot Correctors to Improve Your Skin