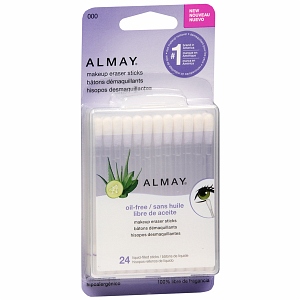 There's nothing we love more than beauty on a budget, especially when the product is actually worth way more than the price tag. "Cheap Trick" is our way of sharing our favorite wallet-friendly finds with the beauty world, so you can look great and have money to spend on more important things (like brunch with the girls). 
Sometimes when we're running late in the morning and quickly apply our makeup, we swipe on too much eyeliner or get mascara tracks on our eyebrows – basically, we're all human. Having to remove any mistakes or redo our makeup can be annoying so when we found Almay's Makeup Eraser Sticks we were so happy with how easy and convenient they were!
Besides creating perfect eyeliner by cleaning up any smudges, these are also great to keep in your purse for touch-ups throughout the day. If your mascara runs or your makeup is looking a little smudged by the end of the day, you can quickly freshen up your look with these sticks. The cotton tip swabs are filled with Almay's Oil Free Makeup Remover Formula and all you have to do is break one end of the stick so the formula runs to the opposite tip, then swipe away any unwanted makeup. It won't ruin the rest of your makeup or irritate your skin, so keep these with you if you need a little touch-up between day and night or if you tend to over apply in the morning! Plus, if you need help with that little "flick" on your cat eye, these will do the trick.
Where to buy: All major drugstores like CVS and Duane Reade, and online here for $5.50.