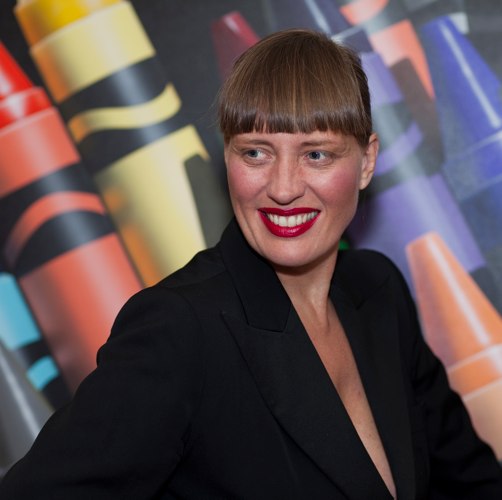 The long hours, the myriad of looks, the plethora of interviews, and the intense artistry and creativity – on a time constraint. Welcome to backstage beauty at fashion week; a special place where artists, models, designers, pr, and the press all collide to find out what the look of the show will be, how to get it, the inspiration, and of course, the products involved. BeautyHighasked Charlotte Willer, Maybelline's Global Makeup Artist, to guide us through her pre-and post-fashion week rituals, and she kindly complied. Find out below how she stays upbeat, comfy, and healthy throughout the week, as well as her go-to lipcolor and tool kit must-haves!
How do you mentally prepare, and what is your personal beauty regimen for the long hours under constant time constraint, the onslaught of interviews, and just general whirlwind?
I sleep as much as possible leading up to Fashion Week. I also take a "Wellness Formula" for a couple of days to prepare. In terms of products, I count on M Lab face cream and Color Sensational Lipcolorthats all I use!
Do you make a checklist of your kit and all the items you need each day?
I do check my kit every day and try to take only what I need. My kit can get very heavy! I like to stay as organized as possible which means keeping my kit as clean and uncluttered as possible.

I noticed that you have very beautiful brushes that you told me once you hand paint – is that something you do before each fashion week?
If I buy new brushes I do paint them for the pleasure of looking at them. All my brushes are painted.
What are three things that you must have on you, on a daily basis during fashion week?
For work, I must have Fit Me! concealer, One by One Mascara (a new must-it does not clump!) and a professional cream I buy in Paris. For my personal use, I always have Color Sensational lipstick in Red Revival, my wallet and perfume.
Do you have a number one weapon for combating exhaustion?
Sleep! The Wellness Formula is also a fantastic help. When I get very tired during the day I drink Coke Zero .
What is the one thing that brings you back, season after season, to backstage?
Maybelline New York and the pleasure of doing the shows, I like the rush!
Can you reveal what footwear you rely on during the New York Fashion Week?
I spend such long hours working on my feet! I tend to choose comfortable shoes-even if they are heels. I have a favorite professional tango shoe brand, since they are made for dancing they are perfectly fitted for your feet and great for standing in. I buy them in Buenos Aires.
After fashion week is through, what do you usually do, or where do you go, to decompress and destress?
If I have the time I spend one entire day in my bed doing nothing but reading and relaxing.
Over the years, what is the most important thing you've learned from this process?
Being organized is really the key to keeping up with the hectic tempo. Also – keep a huge stock of the items you know will be used the most like mascara!