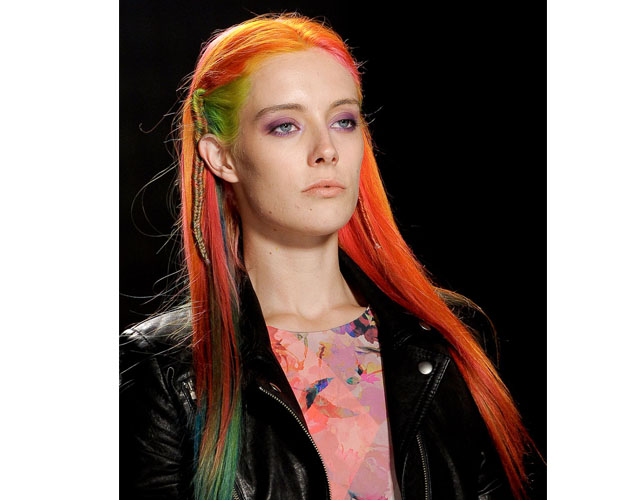 Looking through pictures of models' hair from New York Fashion Week feels a lot like Rainbow Brite, My Little Pony, and Pretty, Pretty Princess got together for a dinner party. Oscar de la Renta's models walked with streaks of colored hair, Theyskens' Theory featured a model with teal hair, and most recently, model Chloe Norgaard walked in the Nicole Miller show (as well as a few others), showing off her mutli-colored mane.
The colorful trend makes total sense for spring and we believe that color is here to stay, whether it be hair or makeup. When non-natural colors started showing up, we were seeing pink strands on Charlotte Free, which seems blase compared to the most recent dye jobs.  The trend of actually dyeing hair (as opposed to wearing colorful extensions) is escalating quickly. According to Chloe Norgaard, she's got naturally brunette hair but she's been dyeing it forever. She uses Manic Panic for the green color and Beyond-the-Zone's Color Jamz for the remainder of the hues. Rainbow hair is absolutely bold, but we're wondering if the trend will translate off the runway (or if you're not a model).
Would you dye your hair multiple, non-natural colors? Tell us in the comment section below! 
Image via ImaxTree