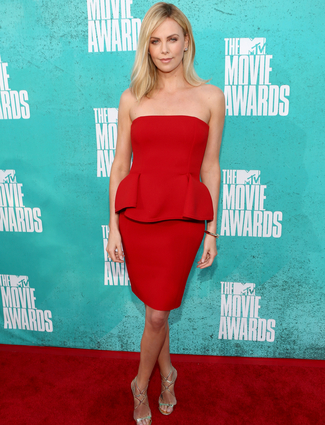 Photos: Christopher Polk/ Getty Images
Being drop dead gorgeous is hard work these days! Or so Charlize Theron makes it seem. The Snow White and the Huntsman actress–who is famed for her stunning figure–says she needs to look good for her job so exercises a lot.
7 New Ways To Get Fit For Summer
"I have to be disciplined. It's part of my job so I train five days a week. I practice an incredibly hard yoga called power yoga. I cycle, I spin, and I do all sorts of things that I like, because that's the key."
The 36-year-old Oscar winner and new mom, says it's getting harder to maintain her looks and figure now she's getting older. "I get fat. I need to work out. I have pimples and I'm getting older. Everything is happening for me exactly as it is for everybody else," she told Easy Living magazine.
Alleged pimples and aging aside, Charlize said she probably won't be getting plastic surgery any time soon. "I can't foresee myself ever going under the knife, but then again, I'm only in my mid-thirties. Maybe it's different when you're in your mid-sixties. So I don't want to make statements about where I'm going to be in 30 years."
It definitely makes us feel better to know that one of the most stunning women on earth works her butt off, literally, to maintain her fabulous body. Would you adopt her workout regimen for that figure?