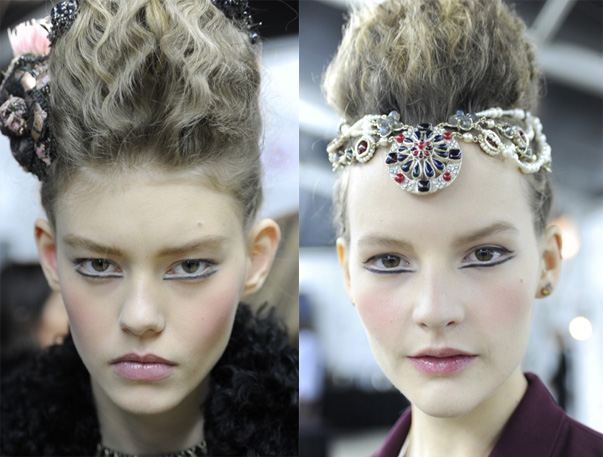 At Chanel's pre-fall 2013 show yesterday in Scotland, hairstylist Sam McKnight showed that with hair, anything is possible. With an Elizabethan twist, hair was taken to new heights, literally, by intertwining braids and a bit of teasing (and let's just call it magic, because none of us are doing it ourselves) for sky-high 'dos. The show, which took place at the Linlithgow Palace, had each model strut down the runway with one of two different takes on the Elizabethan updo. The girls either had hair with mega-high volume in the front, or soft and gentle plaits cascading around their heads.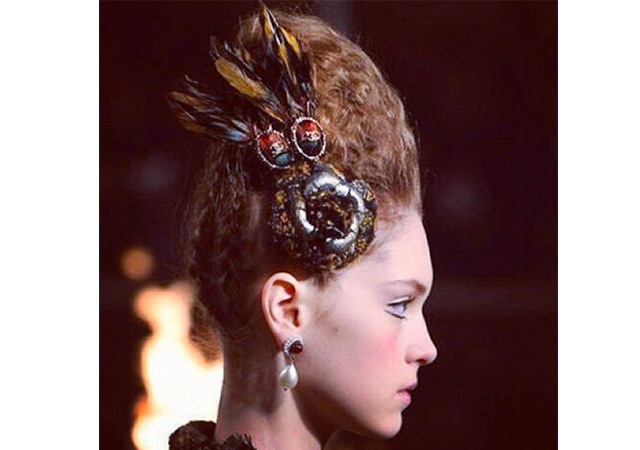 For the first look, McKnight added braids up the back of the hair and some serious height to the front of the head, accessorizing each look with jewels (which included a variety of feathers, headdresses, tartan thistle, camellia corsages and more). But, the statement hair left a bit of a raw, edgy appeal to the extremely royal show, which was only further helped by the deep black, graphic liner drawn straight across the bottom lash line and then mimicked halfway on top. To complete each look the girls were given flushed cheeks and glossy, pink lips.
This look clearly shows that for one, braids aren't going anywhere – and two, it's time to get playful with your liner if you haven't already. What do you think of the look?