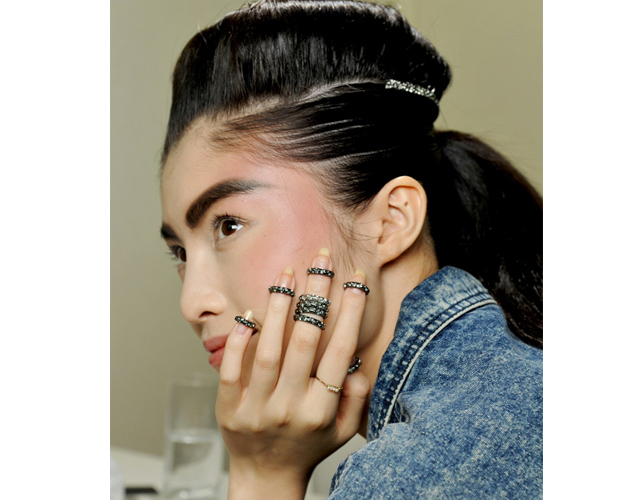 Chanel just wrapped up their Fall 2013/2014 Haute Couture showing in Paris, and Karl Lagerfeld did what he always does, he transformed the Grand Palais into a different world entirely. This time, he created a post-apocalyptic theatre, in which models appeared (stepping out from behind a curtain and crossing over water) as if they were coming from some sort of future.
The collection incorporated tweed suits woven with metallic threads as well as billowy dresses – a bit of a combination between modern and romantic worlds. The girls were given bold brows and exaggerated windswept cheekbones, and the hair was twisted into sleek, architectural flat top ponytails. But, our eyes were on the nails (of course) and we were surprised to find that they were kept bare sans a top coat.  Lagerfeld shocked us all when during the Spring 2013 season he had the models walk the runway with a French manicure, making that look – dare we say – "almost" high fashion once again, and it looks like he's trying to kick nail art to the curb and bring bare and subtle nails back. But, nothing on the hands would be just too boring for the Kaiser, as he decorated the models hands (and actual nails) with plenty of rings – a trend that has been picking up speed lately, and will certainly take off even more now.
We're all in favor of some midi rings, but personally we want the Chanel nail polish reign of setting trends season after season to come back – what say you? Let us know in the comments below!
More Chanel Nail News From Beauty High:
Breaking: Chanel Brings Back the French Manicure
Chanel Couture Does a Crescent Moon Manicure
Chanel Debuts New Fall 2013 Nail Shade at the Show