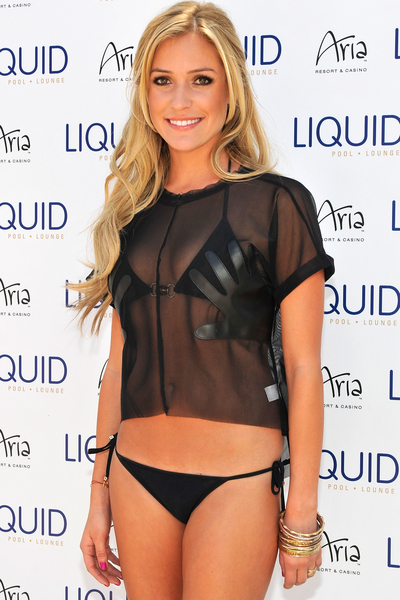 Photo: © David Becker/Getty Images
Cellulite is the great equalizer of all women. It doesn't care about your age, diet, weight or height–it gets everyone. Like most of you, I've tried it all when it comes to getting rid of dimples and not one of those lotions, creams or pills has worked for me.
Therefore, I was a bit skeptical when I heard about a new treatment that promises to not only diminish cellulite, but smooth and tone your problem spots as well. Called the SmoothSculpt, it's a professional treatment that claims to "unclog stagnation and congestion, while breaking down fat and reducing the appearance of cellulite with pulsing and suction effects."
Find out which foods can actually help you lose weight!
I decided to play guinea pig and test out the SmoothSculpt for myself, so I headed over to the Elizabeth Arden Red Door Spa, the exclusive provider of the treatment. SmoothSculpt is aimed at reducing cellulite in targeted trouble areas–the legs, stomach and butt–so I decided to have it done on the back of my thighs, one of the most common areas for cellulite.
The technician had me lay down on my stomach and applied a collagen cream and a contouring cream to my thighs. She then methodically massaged my legs in a back and forth motion with the machine. It literally "sucked" my skin–the sensation was akin to rubbing a vacuum hose over your legs and was oddly soothing. It took about an hour and a half and after I was done, the technician had me stand up and take a look at my legs. It was like they belonged to someone much more in shape than myself–they were smooth, toned and visibly free of dimples.
While you can see results after the first session, it's recommended to do between three and 10 total treatments, depending on the severity of your cellulite. I did a total of four treatments, once a week. Each time my legs looked firmer and the results lasted longer. It's been about 3 weeks since my last treatment and my legs look drastically more toned and the cellulite has definitely diminished. It's not gone, but it's nowhere near as visible as it was.
SmoothSculpt is available at Elizabeth Arden Red Door Spas nationwide. Prices for each session run between $95 to $150, or you can purchase a package for a discounted rate. While it doesn't totally cure cellulite (nothing really can), it is a great option for anyone looking to tone and smooth their body for an upcoming event or just to get yourself ready for the impending swimsuit season.
As one of the web's largest beauty sites, DailyMakeover.com constantly receives products from beauty companies for editorial review. Please read our Editorial Ethics Pledge if you'd like to know how we select products to feature.