Just as we were for the Golden Globes, we'll be glued to the television this weekend to report on the latest Oscar hairstyles and makeup looks. For the biggest night in Hollywood, celebrities go all out to ensure they'll look head-to-toe fabulous. For pre-Oscar prep, it takes a multi-talented staff of aestheticians, colorists and brow experts to curate the glamorous end results we see strutting down the red carpet. We hit up some local Los Angeles beauty haunts to get the scoop straight from the experts on what the stars do to prepare.
SKIN
Sonya Dakar Skin Clinic
To get gorgeous, glowing complexion, stars head to Sonya Dakar. Dakar works with many celebrities (Gwyneth Paltrow, Drew Barrymore and Fergie are fans) to help prep their skin for the biggest night in Hollywood. One of the most requested treatments during awards season is her Triple Peel Facial, a combination of enzymes, green tea and diamonds that leaves skin paparazzi-ready. Sonya also infuses her clients' skin with Organic Omega Booster, an all-natural organic hydrating complex that gives skin an instant glow. She concludes the treatment with her Daily Face Shield, a light SPF 30 that provides photo aging protection for face and body.
Sonya Dakar Skin Clinic
9975 Santa Monica Boulevard
(310) 553-7344
sonyadakarskinclinic.com
Dawn DaLuise Skin Refinery
Red carpet gowns are revealing, so for silky smooth, flawless skin, the stars hit up Dawn Deluise. DaLuise has worked (recently for award shows) on Gabrielle Union, Minka Kelly and Cameron Diaz. DaLuise's galvanic facials are all the rage. This facial utilizes a galvanic gadget that provides a steady, direct galvanic current to help introduce water-soluble substances to the body through the skin. However, Dawn DaLuise's most common request around award season time is for waxing. "With all the beautiful strapless dresses we see on the red carpet–the skin needs to be silky clean, smooth and soft," says DaLuise. The cooler the wax, the less painful the experience. "However, cooler wax is much more difficult for the esthetician to work with," Dawn points out. "I have managed to finesse this procedure so that it is beneficial yet comfortable to the client w/minimal irritation and no recovery time." She often waxes Bridget Moynahan and is also the go-to gal for the Chateau Marmont the spaless celeb haunt, up the street her clinic.
Dawn DaLuise Skin Refinery
8543 Santa Monica Boulevard, Suite 12
(310) 659-1828
dawndaluise.com
BROWS
Anastasia Beverly Hills–Brentwood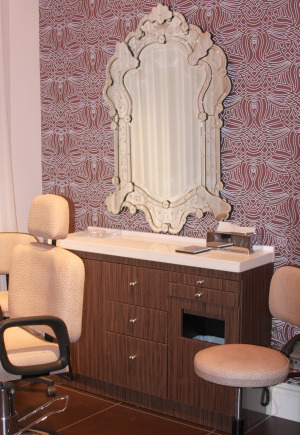 To get those age-defying brows, academy award attendees head to Anastasia Soare. This year, Soare will be manicuring the brows of Oscar winner Penelope Cruz for the 2010 Academy Awards. Clients come in a few days before the event for waxing and tweezing along with trimming and tinting. The technicians match up each hair to make sure they're precisely even and perfect for pictures. For the Oscars, Anastasia spends extra time looking over brows under a magnifying mirror to make sure that even zoomed-in, the brows are 100% perfect. Anastasia favors full brows. "Thin eyebrows tend to age the face, and especially for these red carpet events the celebrities want to look their best and as youthful as possible," explains Soare.
Anastasia Beverly Hills–Brentwood
11933 Wilshire Boulevard
(310) 479-8300
anastasia.net