In the beginning, there was GOOP. If you're not familiar with GOOP, it's Gwyneth Paltrow's newsletter in which she imparts wit, witticisms and instructions for how to live her luxurious lifestyle. In other words, it made you want to vomit until you realized you felt that way because of the sickening jealously you were harboring towards the actress. And then you wanted to vomit even more.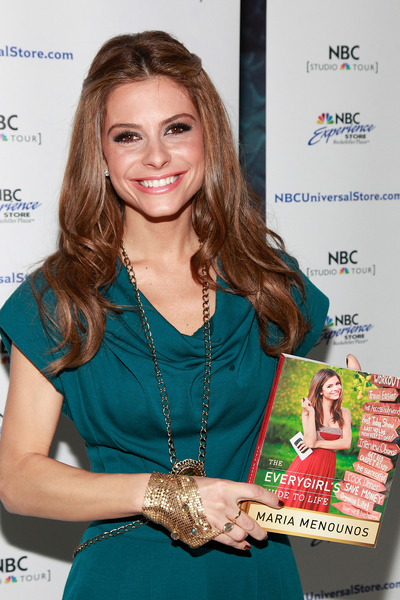 Photo: © Charles Eshelman/Getty Images
Once Gwyneth broke the ice with GOOP, other celebrities (and I use this term in the broadest sense possible, as in "people we have heard of because they're on TV or in the news somehow") eager to turn their names into "brands" rushed in to capitalize on the notion that the public wanted to know how exactly they got to be so fabulous. We are blessed to have not one, but four lifestyle and fashion books from the erstwhile cast of The Hills: Whitney Port's True Whit, Lauren Conrad's Style, <a href="Lauren "Lo" Bosworth's The Lo-Down (they also seem fond of puns on their names) and Audrina Patridge's reportedly forthcoming The Frisky 30-Day Breakup Guide.
Now, Access Hollywood's Maria Menounos has entered the "I'm famous, therefore I have all of the answers to life, therefore I should impart them unto you" book market. This week saw the release of The Everygirl's Guide to Live, in which Menounos "reveals how she does it all while looking effortlessly chic." When I first heard about her book, I wasn't this cynical (I swear). I know that Menounos lost a lot of weight in a healthy way in the past and was also able to break into the celebrity reporting biz at a very young age. So my initial thought was "This might actually have some tips for "everygirls" (like the title promises) because Menounos isn't that far removed from her days as one.
No dice. There's a preview of what you'll find inside the book on InStyle.com, and let me be the first to tell you: This is no guide for us laypeople. How does Menounos keep her hair looking so glossy and well-groomed, you ask? Well, she has her very own hair salon in her house. How does she stay so trim? She grows all of her own vegetables in her backyard garden. Ah yes, I would totally have time to tend a vegetable garden if I didn't live on the eighth floor in a New York City apartment building.
Oh, and guess what else? Menounos—who was apparently worried that her name alone wasn't enough of a draw to incite "fans" to buy her book (a correct assumption)—also sought advice for "everygirls" from Gwyneth Paltrow and Kim Kardashian. It's like she's talking specifically to me! If someone asked me to pick which three celebrities to which my life is the most similar, I would definitely choose these three. Plus, I bet Kim Kardashian loves the idea of people buying this book instead of Kardashian Konfidential because of the lure of getting three celebrities' advice instead of one. Sigh. At least GOOP is free.
What do you think about celebrity lifestyle and fashion books? Have you bought any?


Try on celebrity hairstyles in the Makeover Studio!