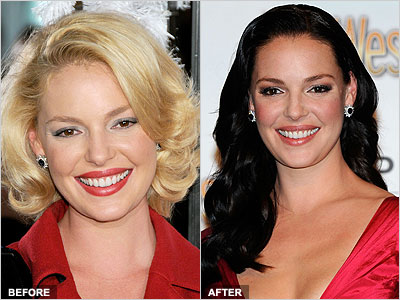 Before Photo: © Gregg DeGuire/WireImage
After Photo: © Ethan Miller/Getty Images
Katherine Heigl, our fave blonde, soon to be ex-, doctor on Grey's Anatomy recently dyed her famous flaxen locks. Her new dark brown hair is for an upcoming role as New Jersey bounty hunter Stephanie Plum from the popular Janet Evanovich novels. While we applaud Katherine for going all in and committing to the role, we can't get behind this hue. The color is much too dark for her pale skin–she would have been better off choosing a warmer brown like Sandra Bullock or Jessica Biel.
What do you think of Katherine Heigl's new darker 'do?