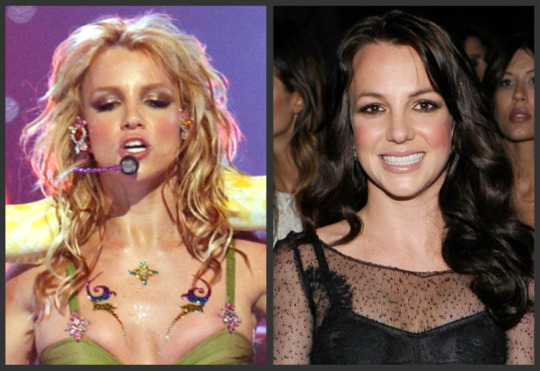 Before -circa Sept 2001
Photo: © Kevin Kane / WireImage.com
After- circa January 2010
Photo: © Larry Busacca/Getty Images for NARAS
One of the most exciting parts of the Grammys (at least for me) was seeing Britney Spears hit the red carpet. That's right, I'm not ashamed to say it, I'm on Team Britney. Her bubblegum pop glory days in the late 90's and early 00's were ones I secretly relished. Her performance at the VMA's with that snake? Priceless.
Unfortunately it's been a rough and rocky road for poor Brit Brit since those days, but when I saw her at the Grammy awards looking reasonably well put-together and in control, I started to get hopeful that maybe 2010 would be the year Britney finally nails that comeback.
What really caught my attention wasn't her see-through dress (that hot mess is a whole other story), but her new brunette hair color. Maybe it's because she's been running around sporting bleached, fried-out extensions as of late, but I really liked the chestnut color and caramel highlights. It looked shiny, lush and healthy instead of straw-like and bland.
Celebrity colorist extraordinaire Rita Hazan politely disagrees with me. She thinks Britney looked better with her golden blonde locks from back in the day. "Blonde works better with her pale skin and makes her look happy and young. [This brunette] is not a good fit because it makes her look matronly and older," she says.
What do you think, do you like Britney better as a blonde or a brunette? Tell us in the comments!