When Oscar night rolls around, we expect to see the usual array of smoky eyes and red lips making their way down the red carpet. Instead, this year we saw more starlets ditching the old-school glamour makeup in favor of a softer, more seasonally appropriate beauty look. In a continuation of the romantic hairstyles and makeup trend we saw at the Golden Globes, the Oscars were all about nude and pastel tones on eyes and lips. Check out these makeup tips from the pro's to find out how you can get the look at home.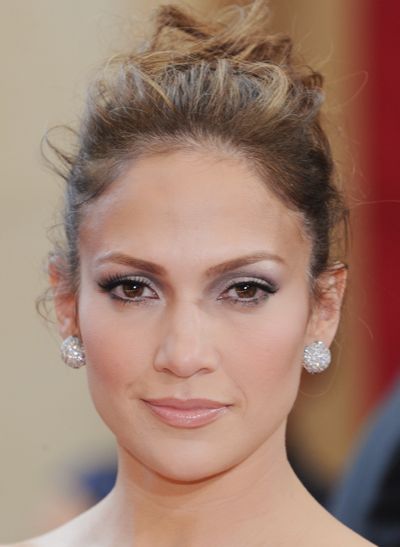 Photo: © Frazer Harrison/Getty Images
Jennifer Lopez
If there's one thing Jennifer Lopez loves, it's a shimmery pastel eye. This year she teamed up with makeup artist Matthew Vanleeuween to create a look that really highlighted her gorgeous lavender dress. Working with Nars, Vanleeuween used D. Gorgeous Single Eyeshadow and Brousse Duo Eyeshadow to create a soft lilac eye with just the right amount of definition on the lashline.
Another important feature for this look were the cheeks. "I wanted to create an ethereal movie star look. I kept the cheekbones high and highlighted with the Enchanted Cream Blush (on counter in April) for a soft and supportive look," said Vanleeuween. Lips were layered with Cruising Lipstick and Sweet Dreams Lip Gloss to create a warm, pinky-nude lip that kept the pastel shadow and shimmery cheek from veering into ice princess territory.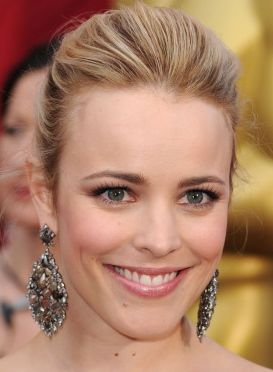 Photo: © Steve Granitz/WireImage
Rachel McAdams
Rachel McAdams' trendy tie-dye dress was the inspiration for her pretty red carpet makeup. "There was a wash of cool tones in the dress–blue, green, purple,
pink–so we wanted the eye, cheek and lips to all have this same water
color sheerness to it," said makeup artist Kayleen McAdams. On the eyes, Kayleen used Chanel Fluid Iridescent Eyeshadow in Fountain, keeping the grey tone on the outer corners of the lid and underneath the eye. On the lid and up to the browbone she swept a rose gold shade, then finished by applying Soft Touch Eye Shadow in Slate on the inner corners of the eye.
Kayleen chose Rouge Coco in Rose Comete on the lips to give them that beautiful, healthy pink color. A dab of Glossimer in Futile accentuated the hue and gave it a modern gleam.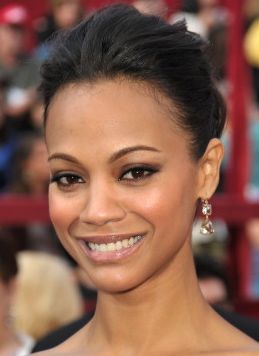 !nl!
Photo: © John Shearer/Getty Images
Zoe Saldana
After spending all of her on-screen time in Avatar sporting CGI blue skin, it makes sense that Zoe Saldana would want to keep her makeup minimal on the red carpet. Makeup artist Vera Steinberg balanced out Zoe's confection of a dress with a sophisticated, creamy nude look. She kept skin luminous with Nars Orgasm Illuminator and Enchanted Cream Blush and lips were neutral and glossy with Love Devotion Lipstick (available in April) and Ophelia Lip Gloss.
Steinberg kept the focus on Zoe's amazing almond-shaped eyes, using Brousse Duo Eyeshadow on the lid and lashline, then defined their shape with Nuits Blanches Eyeliner Stylo.
As one of the web's largest beauty sites, DailyMakeover.com constantly receives products from beauty companies for editorial review. Please read our Editorial Ethics Pledge if you'd like to know how we select products to feature.