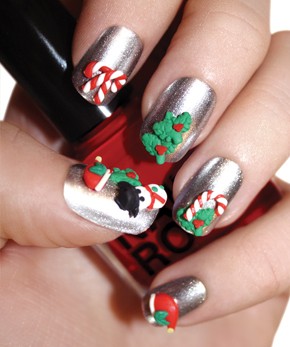 Bored with 2D nail art or just want to celebrate the holidays right here on your fingertips? Look no further than the 3D designs from Nail Rock Frou Frou. There are four designs to choose from: Holiday, Thanksgiving, Bears, and Fruit Burst to let your creativity run wild. Each pack comes with four handmade 3D designs and glue with enough for five applications. It's the cutest way to add designs to your favorite nail polish application. The Fruit Burst comes with apples, strawberries, and oranges for a bit of a summery kick. The Thanksgiving pack can be used for Christmas too because it includes candy canes, lollipops, and ice cream cones. Holiday comes with a cute snowman, Santa hats, mistletoe, and candy canes. Just apply all the little designs however you want on each nail!
How to use them:
1. Apply any color of nail polish. We suggest a red, silver, or gold for the holidays.
2. Apply a second coat one at a time on each nail. While your nail is still wet, carefully drop one of the designs where you want it on your nail.
3. Repeat until all your nails have the designs applied where you want them.
4. To extend the wear of your 3D nail art, apply the designs with any kind of nail glue.
You can purchase all of the designs from the Nail Rock website. Then enjoy celebrating the holidays with cute 3D appliques on your nails!