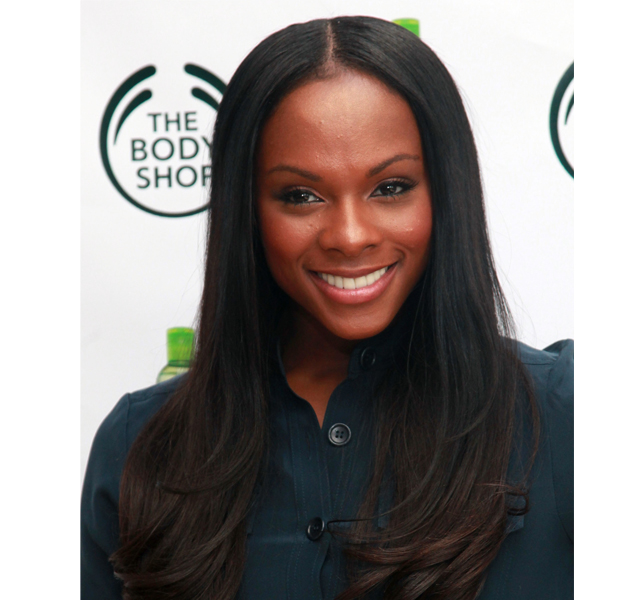 Since Monday's pretty much mean the same thing to everyone the weekend is over, back to the relentless grind, and of course, Gossip Girl oh wait, not everyone looks forward to that all weekend long? Well just in case you're in the latter group who rushes home to catch each new episode (and follows along to the play-by-play from @dkny and @maybelline), then you'll understand my excitement in running into Tika Sumpter, the newest GG on the scene.
Tika pledged her willingness to take a 3-minute shower in an effort to conserve water at The Body Shop event last week, and I caught up with her to find out how she stays so damn pretty.
So what are your favorite beauty products? How do you stay so flawless?
Well, I don't feel flawless! I think the right foundation. I use MAC, I use some COVERGIRL, I think I mix high and low. And keep it simple, ladies. Mascara, foundation, lip gloss, that's good.
Do you find that as woman of color you always have to blend foundations to find the right shade?
No if you find the right one, not at all. MAC has great shades for brown, and different shades of color for women of color. COVERGIRL has a few as well. So I think that they are out there, you have to match it correctly. And then it's money after that!
You mentioned that you mix high and low what are your favorite drugstore brands?
First of all, I love Duane Reade, I could be in there all day. I love mascaras Maybelline's. I love COVERGIRL Amazemint No Care Bear lip gloss. There are so many things that you can find in a store that you don't have to go to a department store and spend a ridiculous amount of money on.
Can we talk about your hair? It's gorgeous.
I have been using this Pantene product that is sulfate free. The Body Shop has one that they are going to give to me so I can try it. I don't know what sulfate does to your hair, it just lays it down, but I can tell you my hair has never felt lighter, or shinier ever. So I continue to use this product.

You must use a flat iron?
And a flat iron of course! At night, I wrap my hair and put a scarf on it. I only wash my hair once a week and it stays straight.
Do you use any dry shampoos?
No. I don't have to! Once I week I know when the time is and I think "Okay, I have to wash my hair," it doesn't break, doesn't do anything, it's just my hair type.
And I have to ask, do you think you and Chuck are going to get together on Gossip Girl?
Well the episode that just aired Monday, I am with his roommate, so. we'll see what happens.