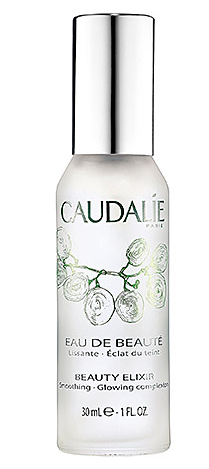 At Beauty High we constantly have new products crossing our desks and are always on the hunt for the next best thing. "The One Thing" is our way of sharing with you that must-have product that you need to introduce to your lives right now, even if it means skipping Starbucks for a couple of days.
When it comes to skin care products, we're all about keeping it as natural as possible. When we found out there was an organic product that would transform our skin over time, we were pretty stoked. The Caudalie Beauty Elixir is part-toner, part-serum mist that works both in the morning and throughout the day to give you constantly glowing skin. The organic ingredients work their magic by smoothing the skin, tightening the pores, and providing an instant burst of radiance. Celebs like Katy Perry have name dropped the elixir as a staple in their beauty routines, so we can absolutely get on board. Especially during these chilly months we're all trying to get through, the idea of a burst of freshness throughout the day sounds amazing.
What Makes It Different:
This serum reduces shine, being used as a primer to hold makeup in place throughout the day.

When you apply the product it stimulates microcirculation, leaving your skin with the tingly, fresh feeling we all love.
Because of its organic ingredients, it can be used on all skin types.
Why It's The One Thing:
Not only does the beauty elixir work to smooth and tighten our skin, but you can also use it throughout the day for an energizing touch up. Staying fresh and radiant throughout the day is ideal in our book.
Where to Buy: Caudalie Beauty Elixir, $18, Sephora