BellaSugar, a part of PopSugar Network, provides beauty junkies everywhere with a destination to learn what's hot in the world of beauty and skin care.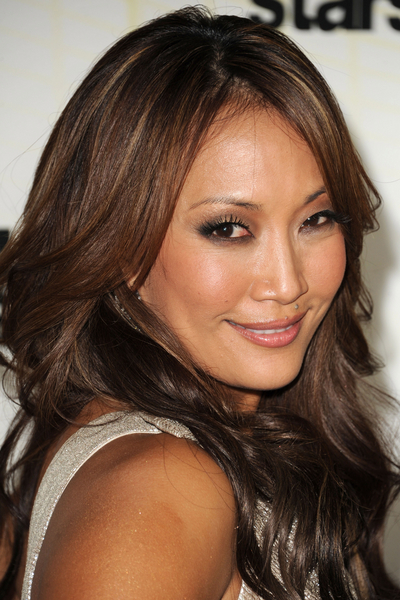 Photo: © Steve Granitz/WireImage
Last week Carrie Ann Inaba held a holiday party in LA, but before she started to get ready at the hotel, she took a few minutes to chat with me about how to look your best during this hectic season. "It's been quite an intense year, as you saw with Dancing With the Stars," she said. "We had an incredible season. It's a nice way to wrap up the year, say thanks to all my friends and family, and maybe welcome the new year a little early." So to see Carrie's tips on getting your shimmer on, what false lashes she thinks are the best, and more, just just reading.
BellaSugar: Tell me about shimmery makeup for the holidays. What's your take on it, and do you have any advice on how to wear it without looking tacky?
Carrie Ann Inaba: I think shimmer is good for the holidays. I think that's what the holidays are for … But if you're going to go with shimmer, just stick with neutral tones, like gray and charcoal. For me, because I'm from Hawaii, I like to focus on my skin. So I think trying to make yourself look like you have a healthy glow rather than looking like a Christmas ornament is probably the better way to approach things — so, a little shimmer on your cheeks, a little shimmer under the eyebrow. For me, because I have a tiny little nose, I put a little shimmer on the bridge of my nose just to make my nose look a little more pronounced. So anywhere you want a little more "ta-da," that's where you put it.
BS: So are you more of a bold lip or a bold eye kind of girl?
CAI: Oh, bold eye!
BS: I thought you were going to say that!
CAI: Must have false eyelashes; must have liquid liner. One of my favorite lashes is the MAC Number Two Lashes. They're just so pretty, and so long. And oddly, I don't know how, but somehow they just look natural even though there's no way in the world they could be.
BS: Are there certain products this season that you just can't live without?
CAI: Yeah, especially in the Winter months, you can get into the Winter blahs and you can feel sort of pale and dull with your skin. And like I said, skin is one of my favorite [things to highlight]. I think it's the most important part of myself and my body, and I think having natural-looking color all year-round is really important. I think it makes you feel better about yourself, more comfortable in your own skin, and it just makes you feel radiant. I use Jergens Natural Glow Express. It's a great product because you put it on — and the first time you put it on — you get a shade of color, which is just fantastic because if you have a last-minute party to go to, you have a little bit of color and you feel great about yourself. Make sure you exfoliate in the shower, and then put it on and you're good. You're ready to go to the parties!

Try on shimmer in the Makeover Studio!
More from BellaSugar
Retake BellaSugar's Best 2010 Beauty Quizzes!
5 Wintry Hair Color Ideas