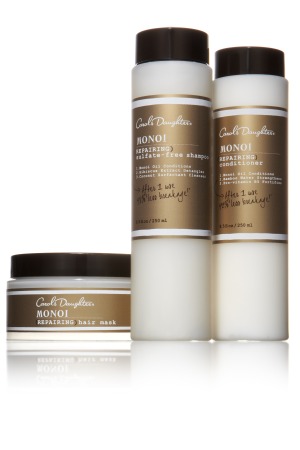 Today marks the second week of my epic hair recovery journey using the new Carol's Daughter Monoi Repairing Hair Care line. It's been pretty cool watching my hair change for the better over these past two weeks–I'm now officially hooked on monoi. Is there a self-help book for that?
To recap, my fine hair was feeling frazzled, broken, dry and all around abused, so I turned to the power of Tahitian monoi to try and turn back time and make my locks silky and smooth. I've seen amazing results by using the shampoo and conditioner every day and the treatment mask once a week–my hair feels and looks so much softer and sleeker. You can definitely see the difference.
This week I decided to put monoi to the ultimate hair test: Air-drying. Usually when I let my hair dry naturally, I end up with limp, lopsided waves and enough flyaways to give an air traffic controller an aneurysm. Not so after treating my locks to the Monoi Repairing collection–my waves were smooth, silky and totally frizz-free. This is great news, because it means I can stop blow drying my hair every day, which will also help it look and feel healthier. It's win-win!
Tune in next week for the final results of my Monoi Monday experiment, and to get the scoop on the line straight from Lisa Price herself, the founder and creative genius behind Carol's Daughter!