As we begin to see sleeveless dresses and sandals arrive in stores and Easter candy on drugstore shelves, we know that spring is almost here and it's time to shed the winter weight! It is time to get into that gym for some fine-tuning before the season arrives so our bods are in peak condition. Keeping your body healthy is so important in achieving all-over beauty and helps raise your self-esteem. No matter what size or shape you are, treat your body as you would your face and care for it!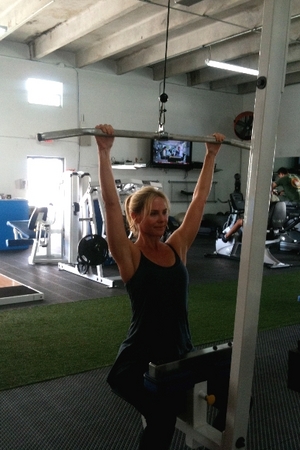 Create a challenge for about five days that you can do with a group of friends and encourage one another to really push the limits. Recently, I grabbed a few girlfriends and my awesome trainer Lauren Goldberg and headed down south to Miami for an informal girl's bikini boot camp. This fun, healthy getaway is great to do with your friends because it allows you to split the cost of the trainer and hotel rooms. It also empowers you to have a group of like-minded friends who will support you during this challenge.
In Miami, we woke up every day to a healthy antioxidant rich breakfast of fresh fruit, egg white omelet's with veggies and green tea with almond milk. Then, we packed our beach bags, slathered ourselves in my favorite sunscreen—SkinCeuticals Sport UV Defense 45—and then hit the beach for an hour walk/run in the soft sand. After the run/walk, we changed into bathing suits and cooled down by taking a swim in the ocean, and then we relaxed under umbrellas with good books and even better conversation. If my lips became chapped or dry, I smoothed on my favorite Fresh Sugar Rose Tinted Lip Treatment SPF 15 and kept my eyes defined with my Natural Beauty Inspired By Carmindy Forever Stay Eye Pencil in Chocolate Brown.
When we left the beach, we stopped at a great cafe for a lunch of grilled asparagus and tuna tataki and lots of water with lemon. We shopped a bit at some local boutiques then headed home for a quick rinse off before changing back into workout clothes.
We then headed to the indoor/outdoor gym for our second workout of the day, where we did a total of one hour of full-body cross training followed by another 30 minutes of cardio. It was intense, but whenever one of us wanted to stop our trainer Lauren kept us going by telling us how hot we all were and how much better we would look in our bikinis after this week. After the gym, we rewarded ourselves with a healthy dinner of steak, grilled veggies, coconut sorbet and a good bottle of wine before collapsing into bed.
After five days we all lost weight, felt great and vowed we would do this more often. It's better to take a vacation and come back feeling better then ever then to take one where you eat and drink yourself into a coma every day, and then have to come home with the pressures of work, not enough time, kids etc. and try to get back in shape. Use the freedom on your next getaway to push yourself towards a better you. You will be wearing those little sundresses with pride before you know it!
As an established makeup artist, many beauty brands send me samples of their latest products for consideration. I only write about the items that I truly love and I always abide by Daily Makeover's Editorial Ethics Pledge in each of my Positively Beautiful posts.