I'm sure you are all gearing up for the shopaholic days ahead as the holidays rapidly approach and might not be sure what to get for many of your favorite friends. I have a fantastic holiday gift idea that will make your female loved ones happy and keep your bank account nice and full. Now that's what I call a gift!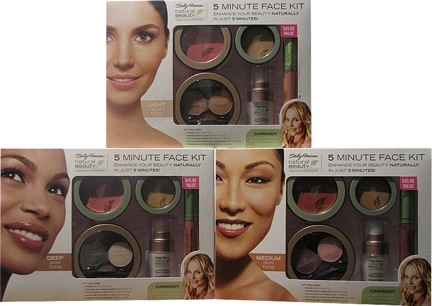 I am launching my new amazing foolproof kits from Sally Hansen Natural Beauty Inspired By Carmindy. What you get is me and my expertise captured in a convenient box and there is something for everyone on your holiday list. I have taken all the guess work out of it for you by creating kits based on some of my favorite looks like my famous 5 Minute Face. Just like in my eponymous top selling book, I keep it simple and easy and provide everything you need to create that flawless natural you in minutes. I have included perfectly coordinated products with easy-to-follow tips and have three skin tone collections to choose from. There are versions for light, medium and deep skin, so the colors are guaranteed to work with your complexion.
I have also created The Perfect Smoky Eyes Kit. Now you can attain this elusive sexy look in 5 simple steps with my streamlined kit. Each shadow is marked so you know exactly where they go on the lids and the final results will look smokin' every time.
Last, is my Super Balm Kit. Don't get daunted by endless lip color options, with my colored lip balms you will get 3 universally flattering shades of sheer wearable moist color. Perfect for daytime and great for the drier months these balms will keep lips hydrated and plump. They contain yummy good-for-you ingredients like shea butter, avocado soy extract and licorice extract for naturally lush lips.
The best part: These stellar sets only cost $13 and can be found at CVS stores nationwide.
Now that's just good gift giving!
As an established makeup artist, many beauty brands send me samples of their latest products for consideration. I only write about the items that I truly love and I always abide by Daily Makeover's Editorial Ethics Pledge in each of my Positively Beautiful posts.