Every girl needs to have the perfect beach bag, and what goes into it every summer can make or break your day in the sun. Mine is packed with fun accessories, skin saving treats and great reading material so I'm ready to make camp on any sandy beach I come across.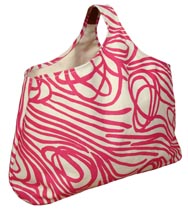 The most important element is the bag itself. Choose one that is large enough to hold all the goods and is made from a tough material like canvas so you won't have to worry about it ripping if it ever gets over-stuffed. My bag of choice is Hable Construction's "Weekender." It's the perfect large size to hold a full days worth of lounging props and not be too bulky to carry. I love the bark rope design in brown and off-white, and then I throw in the Large Zip Toiletry Bag in lagoon checker to house all my products.
My essential beach products consist of the SkinCeuticals Sheer Physical UV Defense SPF 50 for my face and the Sport UV Defense SPF 45 for my bod. These two fabulous sunscreens keep my skin totally protected and safe from all sun damage. My Sally Hansen Natural Beauty Inspired By Carmindy Ultra Soothing Lip Tint in Pinkberry keeps my lips sweet, glossed and moisturized, and a bottle of Phyto Plage L'Original Beach Spray keeps my hair from drying out and looking brittle. I always carry a little hand-held mirror for applying sunscreen on my face throughout the day to make sure it's rubbed in. I always throw in a small bottle of Visine and a purse pack of Q-tips just in case I ever get sunscreen or sand in my eyes.
Along with the products, rolled up inside the bag is the softest Quilted Beach Blanket by Cool Change and one of my favorite sarongs by Matta. These amazing sarongs come in every color and print are perfect for throwing on when running to get a drink or walking along the surf, and come in their own perfect little bag. A pair of gold Ray Ban Aviators, The Lauren 1 straw hat by Eugenia Kim and the encyclopedia-sized book called Shantaram by Gregory David Roberts finish off my beach bag for the perfect day at the beach.
As an established makeup artist, many beauty brands send me samples of their latest products for consideration. I only write about the items that I truly love and I always abide by Daily Makeover's Editorial Ethics Pledge in each of my Positively Beautiful posts.