Women always ask me how I get my skin to look the way it does, and it's really all about using the right products. Incredible skin is always the most coveted element to a woman's beauty. If you want stellar-looking skin that is as flawless-looking in the direct sunlight as it is walking into a fabulous party, then you will want to try my line of seriously amazing skin products.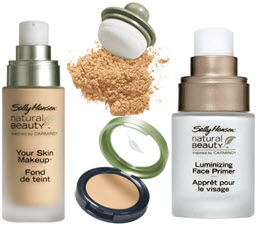 When I was co-creating the Natural Beauty Inspired By Carmindy line, I worked very closely with an incredible team of chemists and product developers to come up with a primer, foundations, concealers and powders that would give skin the look of youth and perfection and work on all women of all ages. I have always been known for my natural approach to makeup, but creating flawless-looking skin can be tricky when developing base products. I love skin and always want the real texture to show—never masking it with thick or heavy coverage. I want your skin to glow and look radiant but at the same time be even and long lasting. We truly nailed it with this line.
My Luminizing Face Primer is the first step to creating a smooth feel to the skin so that foundation will glide on seamlessly. Light-reflecting particles give a subtle gleam and reduce the appearance of fine lines and wrinkles. My Airbrush Spray Makeup is the perfect light, airy foundation to hide imperfections, but it still feels as if you are not wearing anything at all. I love this sheer spray that can be applied in a mist over the face or stippled on using a sponge for more coverage.
My Your Skin Makeup is the ideal liquid for a bit more coverage and is perfect for older women or drier skin. It will never cause you to break out, and I swear that when you wear it, everyone will say how amazing your skin looks. I never leave the house without this fab formula that is honestly the best foundation I have ever seen. Filled with natural anti-oxidants and botanicals, it is literally a skin treatment as well as a miracle formula.
Concealers can get dry and heavy, so my Fast Fix Concealers were developed for bouncing light off a dark circle or blemish without ever getting to cake-y. Just tap on this light formula after you apply foundation to erase any imperfections. The last product is powder, and I'm not a huge fan of powder because it can make your skin look dull, lifeless and older if you're not careful. My Truly Translucent Powders are jet-milled for the finest texture so they erase shine and set the makeup without ever building up on the skin. They are like blotting papers in powder form. The best part about getting superior skin is that all these products are affordable and you can see the results weekly on every episode of What Not To Wear!
As an established makeup artist, many beauty brands send me samples of their latest products for consideration. I only write about the items that I truly love and I always abide by Daily Makeover's Editorial Ethics Pledge in each of my Positively Beautiful posts.