Every year, I get together with a few friends to go on an all-girls deep fishing trip in the Dry Tortugas. It is a great way to relax, fish, have some fun and share beauty secrets. Just because you are on vacation does not give you an excuse to lay around like a manatee scarfing up all you can eat and never applying lip gloss. Beauty needs to be approached from all sides and at all times, even on holiday.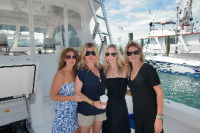 The four of us who attend this trip each year live active lifestyles and we include a healthy diet and plenty of exercise into our daily routines. When we get together, it is a great way for all of us to share our favorite tips, as each one of us is an expert in our own respective areas.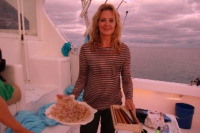 My friend Eden is a great chef so when it comes to eating healthy she shows us how we can improve our dietary ways. When she caught a Spanish mackerel she instantly had it made into a sashimi with ponzu sauce that was nutritious and delicious and, as we all know, fish is a skin-friendly food.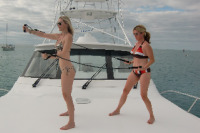 Stacy is our fitness fanatic so she brought sets of bands and bungees for us to work out with every morning while we were out at sea keeping us bikini ready even after a few pina coladas.
Monique is our resident fisherwoman, so she taught us how to reel 'em in with ease and how to identify each fish we caught.
I, of course, kept everyone covered head to toe in sunscreen and gave personalized makeup lessons for each of the ladies to keep them glowing and gorgeous. This will also ensure you look great in your vacation photos! When you keep up your beauty routine even while you are away, you will feel better about yourself. The new things you learned can even be incorporated into your life back home.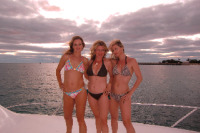 Girlfriends are the most precious beauty tool you have so let's all help each other stay gorgeous!