Beauty is always the best gift you can give or receive during the holidays. This year, make mom, sister, grandma or your best friend super excited by giving her what she craves. I find that an assortment of seven different colored lip glosses makes for an awesome stocking stuffer and keeps lips looking luscious each day of the week. You can save money by buying a top quality drugstore brand like Natural Beauty Inspired By Carmindy Forever Stay Moisture Gloss (available at CVS.com) and go for shades like Cherry Crush, Sparkling Nude, Sugar Cookie, Creamsicle, Playful Pink, Blossom and Brandywine for the perfect assortment.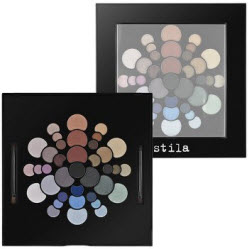 Cool sets are also a great gift, and I love the new Stila Color Wheel Eye Shadow Palette. It's not only beautiful, but with all thirteen of these fun shades and a look book, you can help your girl bust out of a makeup rut.
For that one girlfriend who's obsessed with her lashes, nothing beats Sephora's Favorites LashStash Mascara Deluxe Sampler (available on Sephora.com). This kit has ten of the world's most sought after mascaras, so she can try all of them and find her favorite.
A really cool gift for a younger girl is the Harajuku Lovers by Gwen Stefani 5-pc Rollerball Gift Set that will keep any teen smelling yummy.
If you really want to splurge, then go for the one-ounce jar of Crème De La Mer (that's what I really want from Santa) and wrap it really special so when she opens it, she'll love you forever. Chances are you will get a few samples for yourself, so you both win during the holidays!
As an established makeup artist, many beauty brands send me samples of their latest products for consideration. I only write about the items that I truly love and I always abide by Daily Makeover's Editorial Ethics Pledge in each of my Positively Beautiful posts.