Every Halloween, I get together with my girlfriends for a festive night out, and I love to do everyone's makeup. It is so much fun to transform ourselves out of the ordinary and into daring and bold new characters. This year I realized the colorful looks I created can totally work for a night out on the town any old day of the week, and women don't need to wait for that one special Halloween night to bust out of their comfort zones.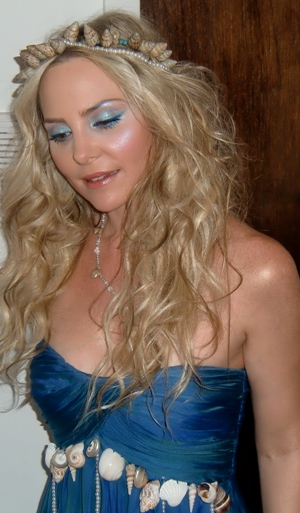 This year, I dressed up as The Goddess of the Ocean and used glittery shades of turquoise, blue and iridescence to play up my eyes. First off, I swept iridescent loose powder eye shadow from La Femme in Sparkle Dust Opal #5 under the brows, on the inner corners of the eyes and on top of the cheekbones. Next I lined my eyes with Natural Beauty Inspired By Carmindy Forever Stay Eye Pencil in Indigo Blue on the upper and lower lash line.
I used MAC Pigment in Blue to blend over the liner with a flat angle brush. I applied MAC Aquadisiac Eye Shadow across the lid from the lash line to the crease and then a dusting of Makeup Forever Diamond Powder in White Turquoise #7 over that on the lid only. I blended the lid shade from the Natural Beauty Inspired By Carmindy Instant Definition Eyeshadow Palette in Quartz across the crease and finished off with MAC Studio Fix Black Mascara.
I filled and extended my brows with Lorac's Brow Pencil in Blonde, and swirled Natural Beauty Inspired By Carmindy Natural Powder Blush in Ethereal on my cheeks. I finished the look with my Forever Stay Moisture Gloss in Playful Pink and felt that it was so pretty looking and totally wearable. To make it work for a great night out, I would just tone down the Diamond Powder and keep my hair and clothing a bit more understated. So have a little more fun at night, ladies, and bust out of your rut with color!
As an established makeup artist, many beauty brands send me samples of their latest products for consideration. I only write about the items that I truly love and I always abide by Daily Makeover's Editorial Ethics Pledge in each of my Positively Beautiful posts.