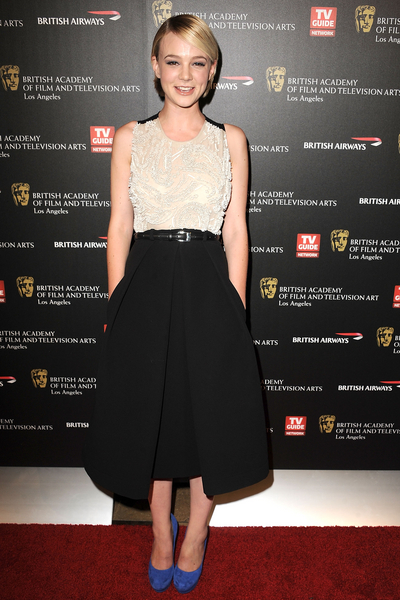 Photo: © Steve Granitz/WireImage
Carey Mulligan has been named the Best Dressed Woman of the Year. The British actress, who has previously confessed she is not a follower of fashion, beat Victoria Beckham, Alexa Chung and Kate Moss to the top spot of [British] Harper's Bazaar Best Dressed list due to her retro-modern look.
Designer Erdem Moraloglu said, "She's so 60s French New Wave – like a Godard
starlet – but totally modern." When asked about fashion in the past, Carey claimed it was only thanks to a stylist she managed to look good so often. She said: "I don't really care that much about fashion, I just have a brilliant stylist who dresses me, and in my own life, I'm pretty simple. So that side of things has been wearing."
Other judges on the panel included British hat designer Stephen Jones and
Harper's Bazaar Editor-at-large Kim Hersov. Pop star-turned-designer Victoria Beckham came in second in the list, while socialite Yasmine Le Bon was third. Other notable inclusions in the list were Tilda Swinton at number seven, Gwyneth Paltrow at 11 and Sienna Miller at 16.
Harper's Bazaar's Best Dressed Woman of 2010 list:
1. Carey Mulligan
2. Victoria Beckham
3. Yasmin Le Bon
4. Alexa Chung
5. Florence Welch
6. Kristin Scott Thomas
7. Tilda Swinton
8. Natalia Vodianova
9. Natalie Massenet
10. Samantha Cameron
11. Gwyneth Paltrow
12. Andrea Dellal
13. Kate Moss
14. Bianca Jagger
15. Stella McCartney
16. Sienna Miller
17. Sam Taylor-Wood
18. Charlotte Dellal
19. Shingai Shoniwa
20. Coco Sumner

Try on Carey Mulligan's hairstyles in the Makeover Studio!