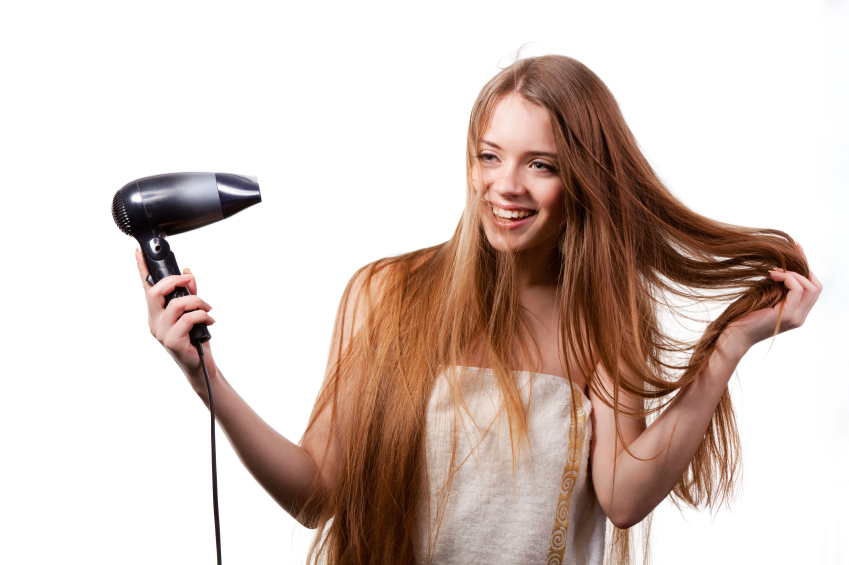 Think the only way to achieve a star-worthy, silky-smooth blowout at home is to undergo a salon keratin treatment (formaldehyde and all?) Think again.
We had the amazing opportunity to talk to celebrity hairdresser Nathaniel Hawkins about his professional secrets to frizz-free hair (yes, even in humid weather!) and his tips and tricks may surprise you. Check out his simple solutions to the common mistakes most women make when doing their own hair, and start enjoying your own gorgeous blow-out- sans salon- right away.
You regularly work with stars like Adele and Jennifer Lopez. What kind of red carpet style do celebs ask for the most?
Because I'm a hairstylist, I love doing the big fancy hairdos — working with Adele is lots of fun because she's always like, "Make it higher!" However, the most in-demand look right now is relaxed, "beachy" hair. Celebrities want to downplay their very expensive gowns with something loose and undone that still has beautiful curl and wave formations. The key is achieving a product-free finish, so that the hair looks very clean, healthy and beautiful. Of course, it takes a lot of product to get there, but the end result shouldn't look like it.
Frizziness is a huge complaint in in the summertime. What can we do to keep our hair silky and straight, even in the heat and humidity?
The most important thing about styling your hair in the summer-or any time, really-is applying your styling product properly and drying your hair all the way.
Shampoo – Apply a pre-shampoo treatment oil to your hair before washing it, such as Ojon Damage Reverse Restorative Hair Treatment or Leonor Greyl Huile De Palme. The lipids from the oil go inside the hair to make it smoother, shinier and stronger, and they also prevent water from going back into your hair. Then, wash it out with whatever shampoo you like.
Condition – It's important to remember that not all conditioners are what they seem. A lot of women think they have dry, damaged hair when it's really just overhydrated they use conditioners that are too thick and intense so the hair can't hang on to any of its natural oils. Also, they can be very difficult to rinse out completely, leading to buildup. So, pick a very slippery, lightweight conditioner instead. It should just soften and detangle and rinse very easily.
Apply product – Whether they're smoothing, de-frizzing, humidity-blocking, etc., styling products only work where you apply them. Since hair has a lot of surface area, a lot of women don't apply enough product. So, for smooth hair in the summer, I recommend using a silicone serum, like John Frieda's Frizz Ease. Divide your hair into four sections, squeeze two to three drops of serum in one hand and wet your other hand in the sink. Then, forcefully rub your hands together, diluting the serum, and work it through one section of hair. Do this for all the sections and you'll get much better product coverage.
Blow dry – Most women blow dry their hair until it's only about 90% dry. The leftover moisture trapped in the hair is a major part of causing frizz. When you're done blow drying your hair, put your dryer on the cold setting and run it through your hair. You'll be able to feel any damp spots that you need to re-dry. This is a good time to pick up a straightening or curling iron, as it's a good way to seal down the hair shaft and really make sure all the left over moisture comes out as steam. Or, really stretch your hair around Velcro rollers and let them sit for 20 minutes, and you'll get incredibly shiny, straight hair. Velcro rollers are the most amazing tool because they instantly transform the hair without damaging it, and they're super inexpensive.
I tell students to treat hair the same way as you do a turkey – when it comes out of the oven, you usually give it a bit of time to sit and become really tasty. It's the same with hair! You've got to let it rest after styling for it to look great.
Finishing products – If you look at the ingredients in any finishing, the first ingredient will probably be water. Just applying it to your hair means that you're adding moisture to the hair you just spent all this time drying. Instead, put a pea-sized amount in your palm and vigorously rub your hands together to emulsify it -I even do an air clap or two to make sure that aqueous ingredient evaporates. When you can no longer feel the slip of the product, then you're ready to apply it. If you use hairspray, make sure it's a dry one like TRESemme TRES Two Ultra Fine Mist Spray or Paul Mitchell Awapuhi Wild Ginger Finishing Spray, otherwise you'll run into the same problem. Also make sure to spray it the full 10-11 inches away from your head.
What can we do to make our hair healthier, and therefore less frizzy, in the long-term?
Using a pre-shampoo treatment definitely makes a huge difference, and preventing your hair from becoming over-hydrated does, too. This will give your hair great comb-ability-the less resistance you have with your hair when you're styling it, the better, so over time there will be a big improvement in your hair's health.
Nathaniel Hawkins has styled photo shoots for major fashion magazines including Vogue, Elle, Harper's Bazaar, and W, and has worked with legendary fashion designers and photographers. His experience working with fashion-forward style icons in the modeling and acting worlds have made him one of the most sought-after stylists in the industry. He is known for combining classic looks with modern trends, and currently works with TRESemm hair care products.