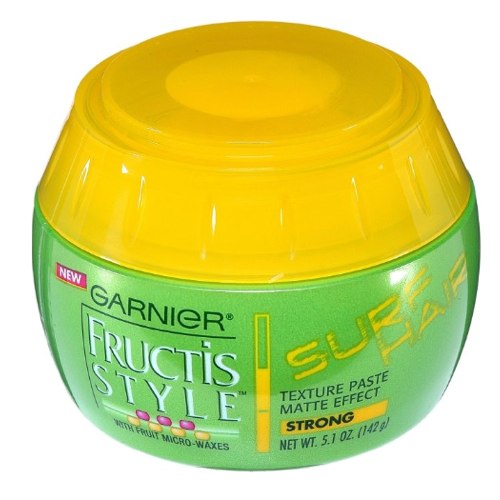 I really wish I could boast the kind of hair that holds a wave that I simply made by twisting it around my finger. Not so, and probably never will be the case, as fine, delicate hair seems to have trouble holding curls, waves, and that oh so sexy tousled, beachy look. Sometimes texture can be built with the use of dry shampoo, and definitely the coveted Bumble & Bumble Surf Spray, but the most straightforward, and affordable is always appreciated.
Enter Garnier Fructis Style Surf Hair Texture Paste; for $3.99 and a teeny tiny bit of product, I am one step closer to that messed-up, slightly tousled style that looks like a hybrid between bedhead and surfer goddess. After testing it out on dry hair and loving the results, I completely agree with the directions, which recommend to "Rub a dime size amount of paste between your palms, apply to slightly damp/dry hair and style. Define individual areas with your fingers."
As a blaring additional tip, avoid your roots and focus more on the body of the hair strands; using more than the dime size amount and running fingers with too much product at the roots will weigh your hair down and cause it to really look like you've been camping on the beach for one too many days. Apply strategically, and in moderation, and you will have the most textured and matte, raddest surf chick hair around.
(Garnier Fructis Style Surf Hair Texture Paste, $3.99 is available at fine and mass drug store chains nationwide.)
FYI – Garnier just came out with a cool new eco-friendly concept in its Pure Clean line, offering both styling products and a shampoo and conditioner that are 92% biodegradable with no silicone, parabens and dyes, in bottles made of both PET (essentially recycled water bottles) and 50% post consumer recycled plastics. Pretty great, right? And the price? About $4 per product.