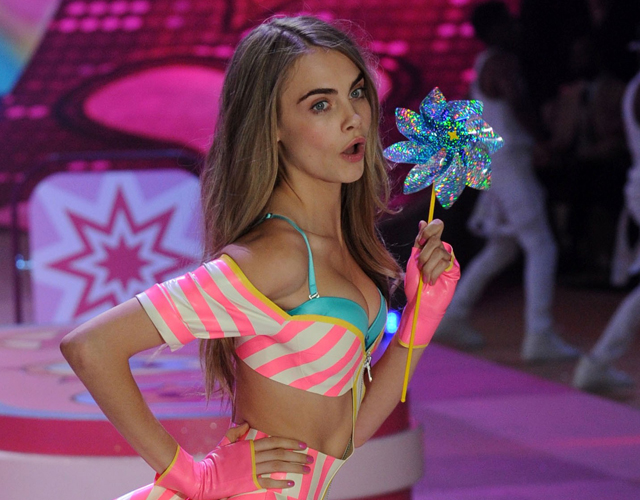 Cara Delevingne, the British model who pretty much took the fashion week runways by storm this past season, made her Victoria's Secret Fashion Show debut yesterday. The show (which will air December 4 on CBS) gets a whole lot of hype for all of the prep that the models put in to getting into shape before they put on those famous Angel wings.
We had a chance to catch up with Delevingne backstage before she hit the runway for the first time, to talk about how she prepped (and it most certainly didn't include hours at the gym) but rather she bulked up on the calories, much like Chanel Iman, who made headlines last year for needing to "pack on the pounds" before the show. Although we may be jealous of Delevingne's blessed genetics, we can't help but love a girl who can down pizza, put on panties and a bra and still compare her "beasts" of brows to Frida Kahlo. Read on to get more insight into Delevingne's hectic "It" model life!
Beauty High: Did you do anything to prep for this runway debut?
Cara Delevingne: I mean, I've been working everyday in different countries, so I haven't really had time, which probably helps with the stress of flying around, but no, nothing. I had McDonald's for lunch yesterday and pizza for dinner. I need to eat a lot otherwise I feel faint. I get in the worst moods if I don't eat. This morning … I was like, I'm going to be a f*** bitch if I don't eat.
BH: Ha! Well, those are some great genes then. You're probably spending a ton of time in makeup and hair. Have you learned any tricks?
CD: There's a really easy way of just kind of wearing makeup but looking like there's nothing on your face, do you know what I mean? I'm still not very good at it, and I'm learning slowly. It's always different. It depends on what kind of mood I'm in – if I want my hair up or if I want it big. It's all kind of whatever you feel. It changes, it depends. It depends on how I wake up that morning and feel.
BH: Are there any products that you absolutely have to have in your purse?
CD: My lip balm, my MAC eyebrow gel, Chanel mascara, a tissue pack.
BH: Obviously you're known for your brows. Do you have a trick for grooming them?
CD: Oh no, they are their own beasts. I can't tame them. They don't listen to me. People are like, "Oh do you shape them?" and I'm like, no I just let them grow. One day I'll go out and be Frida Kahlo. One day, there's going to be a fashion show inspired by her. I'm going to make it happen.
BH: Ha! Have you ever been her for Halloween?
CD: No, I should. I should do that!
BH: You're obviously very active and a bit "cheeky" and fun on Twitter and Instagram. Tell me a little bit about it. Do you just have fun with it?
CD: Well, I had Instagram for a long time before, but Twitter I kind of used for products and people in fashion, and suddenly I was like, it's actually mad. I have 120,000 followers on Instagram and 100,00 on Twitter. It's incredible. It's a really incredible position to be in. It's a lot of pressure. You don't really realize.
BH: Definitely! And lastly, this is your first year walking in the Victoria's Secret show – can you just tell me about some of the outfits you're most excited to wear on the runway?
CD: I'm wearing a lot of latex, so it's going to be interesting. I'm going to be lubed up to the max. I'm going to be basically sliding around in them.
[Image via Getty/Bryan Bedder]