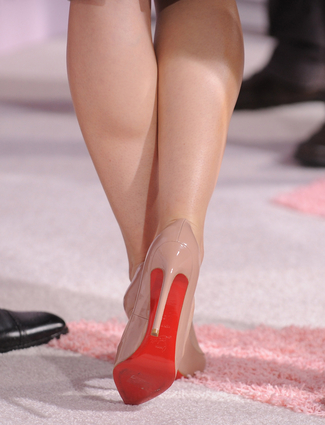 Photo: Getty Images
There's something really spectacular about a Christian Louboutin shoe, just ask any women who's dropped $600 or more on a pair. But for those of us who aren't able to splurge on high-end fashion items, there's another option: paint the soles of your old, affordable shoes red.
What Your Shoes Say About Your Personality
Homebase, a home improvement store in the U.K., has reported a 40 percent increase in red paint sales, with women asking salespeople how to paint on leather and rubber. As it turns out, DIY Loubs are a lot cheaper than the real deal.
"Many people tend to look at magazines to get the right paint color for walls and furniture, but we've noticed significant numbers of girls color-matching tester pots to pictures of designer shoes in fashion magazines," Peter Rooney, manager at the Homebase store in Acton, London told the Telegraph.
It's incredible how red soles have come to symbolize high status over the last 10 years. Women everywhere will seemingly do anything for a great red sole! Christian Louboutin began his signature soles in the early '90s, after he painted an assistant's red nail polish on a shoe that needed some oomph. He has since trademarked the red sole, and is always battling it out with copycats in court–namely YSL and Zara, who've both made shoes with red soles.
Get The Look: Jessica Alba's Mulberry Lip
Don't want to get paint on your pumps? There are other ways to get red soles. Teen-aged entrepreneur Rosso Solini created a company, which started as a school project, that sells stickers for your soles. For €17.50 (roughly $21) you can buy a pack of three solid-colored stickers to put on the sole of your shoe.
As much as we love Christian's shoes, we can't decide if this idea is tacky or genius. What do you think? Would you create your own Louboutins?