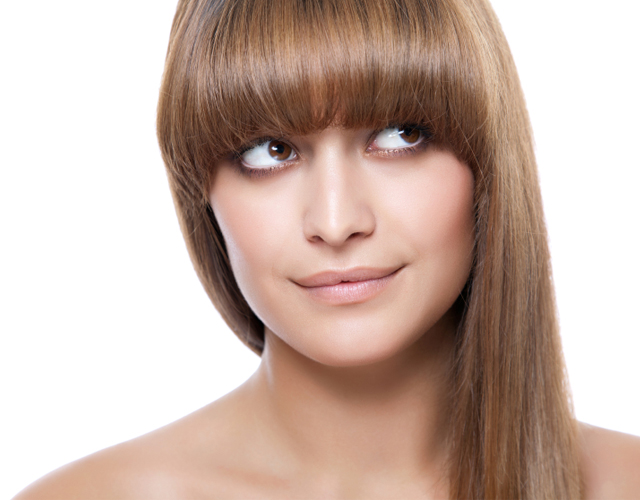 The hardest thing about taking that bold hair move and chopping bangs is trying to picture what the end result will be – and if you'll like that end result. In order to help all of you undecided girls out there, Kattia Solano, owner of Butterfly Studio has created a "Bangs Bar" at her salon. The bar provides a menu of clip-in bangs (with plenty of styles and colors for you to choose from) that clients are able to test with a pro-styling session of their choice. Bangs are also available to purchase, for a cost of $30 and blow dry styling with bangs starts at $68.
Solano told Elle.com that "Around this time of year, people always come into the salon asking for bangs, especially if celebrities have them. Katie Holmes on the cover of ELLE was one of the first this season. People will bring in the pictures and be like, 'Will I? Will I not?' [This service] gives you a really good idea if you want to cut a wispy bang of a more blunt bang. If you just want to buy the [faux bang] piece and wear it with a topknot or a ponytail, we shampoo the hair and style it."
So if you're considering a Brigitte Bardot chop maybe it's time to take it for a trial run to put your mind at ease and know that you'll be satisfied with the look. Plus, if you don't live close to Butterfly Studio, you could always purchase some faux fringe yourself for a trial run.
[Image via Istock]