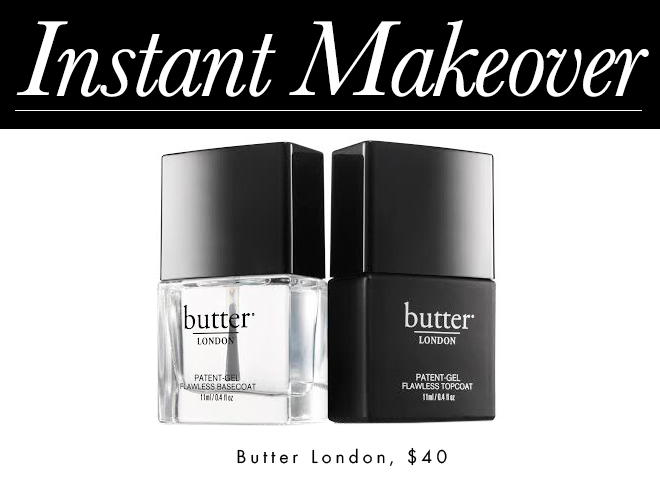 Occasionally we come across a product that bestows an immediate glow, changing our look (for the better!) in an instant. Since we'd be remiss to keep them to ourselves, we highlight these genius finds in our Instant Makeover series.
I've tried all of the gel manicure kits out there, and to be honest, they're more work than they're worth. If you want a manicure that lasts two weeks, skip the DIY and head straight to the salon. But for a weekly manicure, try Butter London Patent-Gel Top & Tails ($40, butterlondon.com). The set includes a basecoat and topcoat that work as a primer and shield, holding any polish in place without the nicks and chips. Because last week was a busy time visiting friends and family, the last thing I wanted was to reapply my nail polish. After five days, only one nail had a small chip at the tip and within seven, only two more nails had followed suit. For better results, apply another topcoat two days after application.
All in all, this base and topcoat provided longer-lasting results. And that shine—it's almost impossible to find anywhere outside of a salon.