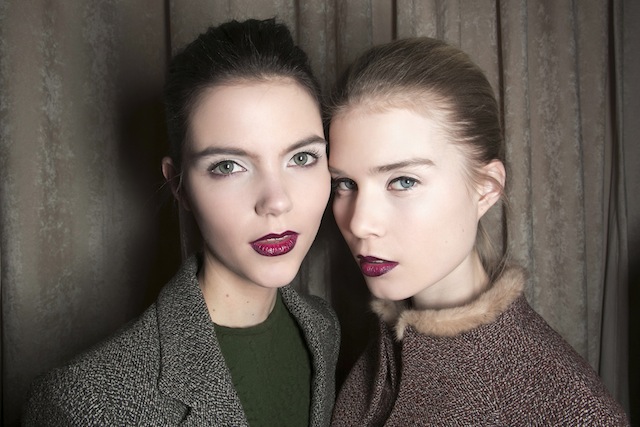 Now that fall is finally here, it is time to kiss those pink, glossy lips goodbye and give a warm welcome to deep, burgundy hues. Deep red, oxblood, and burgundy are great lip shades to help you transition into the cooler autumn months and us ladies here at BeautyHigh could not be more excited to start rocking this trend. We have gathered a few simple tips and tricks to help you wear a burgundy pout this fall, without washing out your perfectly, pale skin.
1. Exfoliate Your Lips
Mix a little sugar and olive oil into a bowl and gently rub the mixture onto your lips in circular motions. Rinse the mixture off with warm water and you are left with kissable, soft lips – perfect to begin your bold lip application.
MORE: Matte Lipstick: All You Need to Know About the Look
2. Condition Lips
Before applying any bold lip color, whether you're going to go glossy or matte, always apply a lip balm to keep your lips moisturized.
3. Choose the Right Shade
For fair skinned ladies, deep reds and berries work best. Medium and darker skin tones can get away with more intense shades on the lips like wine and dark burgundy. But, makeup is meant to be played with – and if you're not sure what tone works for you, go to a makeup counter at a department store (or your handy Sephora store!) and find out!
4. Apply Lip Liner
Apply the lip liner to the outer edge of your lips and be sure to stay inside the lines. Then fill in your lips with the lip liner to create a base for your lipstick. This will prevent your lip color from budging all day.
5. Use a Flat Brush
Using a flat lip brush, apply the burgundy lipstick to center of your lips.
6. Blend Color Outwards
Still using the flat brush, work from the middle of your lips and move the color out until the entire lip is covered.
7. Clear Gloss
Apply clear gloss to the center of your top and bottom lip for added depth and texture, if you're going for a glossy look.
8. Finish Off Your Complexion
To prevent the rest of your face from looking too pale and washed out, add some color to cheeks using a cream blush that is in the same color family as your lipstick.
Image via Imaxtree