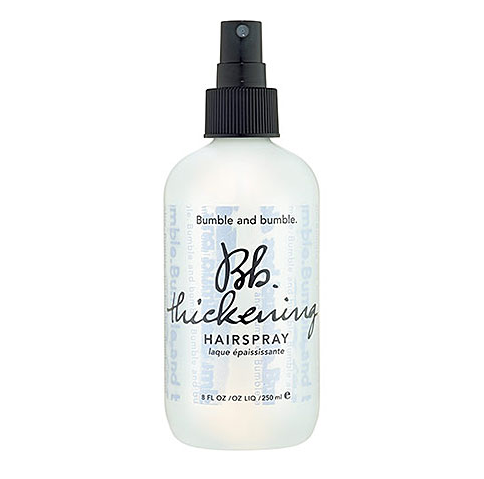 At Beauty High we constantly have new products crossing our desks and are always on the hunt for the next best thing. "The One Thing" is our way of sharing with you that must-have product that you need to introduce to your lives right now, even if it means skipping Starbucks for a couple of days.
When it comes to hair, we'll all do just about everything we can to banish fine, limp hair. Big, textured hair was all over the spring 2013 runways at fashion week. In a fine-haired girl's attempt to stay on trend, we came across the Bumble and Bumble Thickening Hairspray and the life of our hair was changed for good (or at least until stick straight, smooth hair is in again). The hairspray comes in a suite of thickening products from Bumble and Bumble including shampoo, conditioner and serum, but we've fallen especially hard for the hairspray.
What Makes It Different: 
Whether you've got thin or thick hair, this hairspray will work to give you massive strength and texture. 

Not only is it a hairspray, it's also a heat protectant that lifts, volumizes, and controls hair.
Use it before blow drying and styling, then use it afterwards to set your style. The result is healthy, thick locks.
Layering it over other Bumble and Bumble products (Straight, Prep, etc.) will give you boosted results.
Why It's The One Thing: 
Between heat styling and coloring our hair, the processes we put it through make hair more thin over time. This spray protects hair from further heat damage on top of giving it a thicker, lustrous look just in time for textured hair to be in style.
(Bumble and Bumble Thickening Hairspray, $28, Sephora)