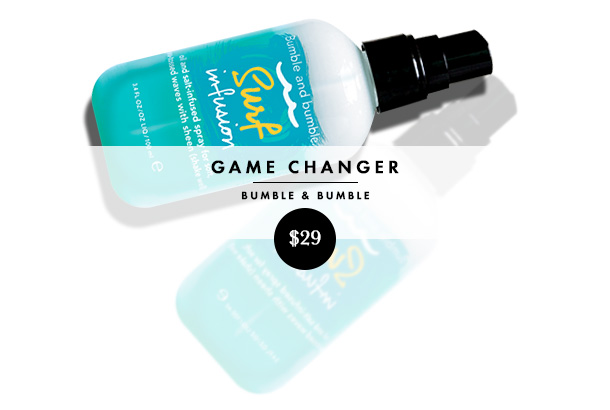 Ah, the elusive beachy waves. I don't think there's a girl out there who hasn't lusted after them at one point or another. Who doesn't want sea-tossed texture, piecey definition, a bit of salty grit, like you're a mermaid on some faraway shore untouched by the sullies of everyday life? Personally, it's all I've ever wanted.
The beauty market is downright saturated—saturated!—with sprays and mousses and creams that all promise to impart that most desirable effect. I've enjoyed, even loved, plenty of them at different junctures, because why wouldn't I? My hair is naturally fine, but there's plenty of it, and it picks up a wonderful tousled wave, the kind that fields compliments from beauty lovers and admirers alike.
I can say these things now without sounding totally self-absorbed, because that is not what my hair is like anymore. I took several rounds of peroxide to it over a period of about six months, then dyed it back to something close enough to my natural dark brown, losing several inches and, well, everything that made my hair great in the process. It's fine, I don't hate it, and I know it'll grow, but one of the not-so-happy byproducts is that I can't really use sea salt sprays anymore—they're just too drying. The products that were once my go-tos no longer rank; I'm too busy sleeping with half a jar of coconut oil and saran wrap on my head.
Like any good beauty junkie, I still pine for the sexy, salty look. I especially miss my (and everyone else's) favorite sea spray, the inimitable, the ultimate, the first in its class Bumble and bumble Surf Spray—it is glorious, yet certainly not for the parched of hair. Bumble and bumble has always seemed to have a way of pleasing their audience, but they really went above and beyond with their latest release. Their new Surf Infusion isn't just the perfect in-between styling product: It also fills a genuine gap in the market that has somehow managed to go unaddressed heretofore.
The bi-phase formula, which is meant to be shaken before use, combines the traditional texturizing sea salts with a blend of hydrating oils, for the same soft waves we know and love, but without the drying, crisp-feeling aftermath. Using it on damp hair results in the perfect glossy, frizz-free waves, while scrunching it through dry hair creates texture and adds moisture all at once. If this isn't the prime example of having your cake and eating it too, I don't know what is.
Read more from Daily Makeover: How to Make Beachy Waves Even Better with an Easy DIY