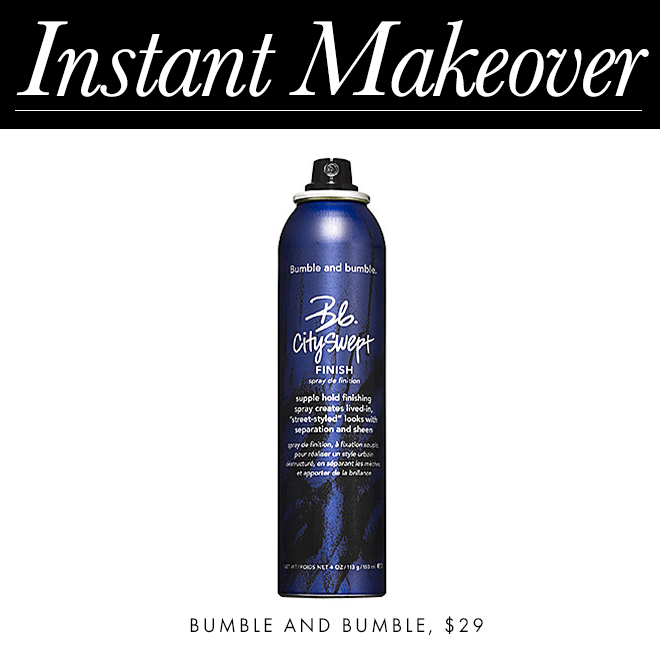 Occasionally we come across a product that bestows an immediate glow, changing our look (for the better!) in an instant. Since we'd be remiss to keep them to ourselves, we highlight these genius finds in our Instant Makeover series.
Many (most?) people lust after polished hair: Flowing and touchable, with a surface so glossy you can practically see your reflection if you look hard enough. It makes sense, because polished hair, of course, indicates that you, too, are polished. You're never late to work, you never ruin your white laundry with a rogue red shirt, you know how to execute a salon-quality blowout, you always remember to deep condition weekly—in short, you have your act together.
And then, there are those among us who want nothing to do with this. We want to look tousled, carefree, windblown, maybe even sort of messy, distinctly Kate Moss-esque. We believe there's a certain allure to smudged eye makeup and split ends and looking (not acting!) like maybe we were out all night. We are the people for whom Bumble and bumble Cityswept Finish ($29, sephora.com) was created.
Described as a "supple hold finishing spray," we prefer to think of Cityswept as the urban girl's answer to beach wave sprays. Technically, it's a wax-based spray that is dispensed in a microfine mist, but as with most Bumble and bumble styling products, it's totally unique and not exactly easy to describe (we still don't know what Brilliantine does, but we're on our fifth tube anyway), so you just have to trust us when we say that it just makes hair look better. Like, way better. Hair of all lengths and types becomes more textured, more defined, more voluminous, more… interesting. Fine, we'll say it: It makes you look like a rock star's girlfriend. Happy now?
Read more: The Secret to Julianne Hough's Perfectly Textured Hair