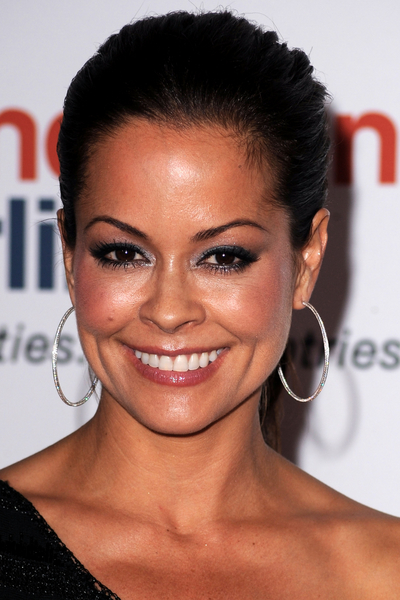 Photo: © Steve Granitz/WireImage
Brooke Burke is one busy celeb. The Dancing With The Stars host is a mom-on-the-go who has perfected the art of getting gorgeous in a flash. We caught up with her as she helped kick off the Wella Professionals Color Discovery Tour (for which she's a spokesperson, natch) to to find out how she stays looking her best amidst her hectic schedule. Check out her quick tips, product picks and what one thing she thinks is a necessity for every woman.
The 5-Minute Mommy Makeover
My routine is about what I have time for in the morning and unfortunately that's usually only what I call the 5-Minute Mommy Makeover. That means sunscreen, lipgloss and maybe a coat of mascara and I am out the door. If my hair is clean and healthy it makes me feel pretty good, even if I'm just putting it back into a ponytail, which is pretty much my daily deal.
Protect Your Skin
I can't live without sunscreen. I have a lot of melasma, so I can't get sun on my face. I like an SPF 50 at least. My favorite right now is from CellCeuticals– it lasts for four hours and is really light so it doesn't feel heavy or greasy.
Fake A Healthy Flush
I like cream blushes because I think they are really healthy. I don't like to put a lot of powder on my face, especially in the heat of summer, so I like to use a tinted moisturizer followed by some cream blush. I like the creams better because they just look dewier and like a little more natural color from the sun.
Get Oiled Up
I love to use coconut oil. It's really inexpensive and you can get it at a health food store. It's used for cooking, but it's actually a really good all-natural conditioner. I like to put some on my ends and then throw my hair up into a ponytail and leave it in–it makes your hair so soft.
Be A Smart Shopper
I don't think you should have to spend a fortune on your beauty routine. I like to use some of the ingredients you see listed in these expensive products. Things like shea butter or coconut oil or almond butter are ingredients in those expensive creams, but you can just buy them at your local grocery store and use them instead. Read the labels on the products you love to find out what's in them and you can end up saving a lot of money this way.
Splurge On Your Hair Color–It's Worth It
There are some things you really can't skimp on and I think hair color is one of them. There's really just no comparison between getting your hair colored at the salon and doing it at home. Being able to consult with a professional and know that you're putting the right products in your hair is important. Hair color can really go wrong, so it's important to talk to a professional colorist to find the right color that will enhance and complete your overall look.
Win a Brooke Burke-approved hair care set!
In the comments box below, tell us how a new hair color makes you feel and you'll be entered to win a Sebastian Volume Set featuring a Volupt Shampoo, Conditioner, Gel and accessory bag. Contest ends July 14 at 5 P.M. EST. Please read the full rules and regulations for more details.
Congrats to our winner Stacey. Thanks to everyone who entered and told us why they love to color their hair!
As one the web's largest beauty sites, DailyMakeover.com constantly receives products from beauty companies for editorial review. Please read our Editorial Ethics Pledge if you'd like to know how we select products to feature.