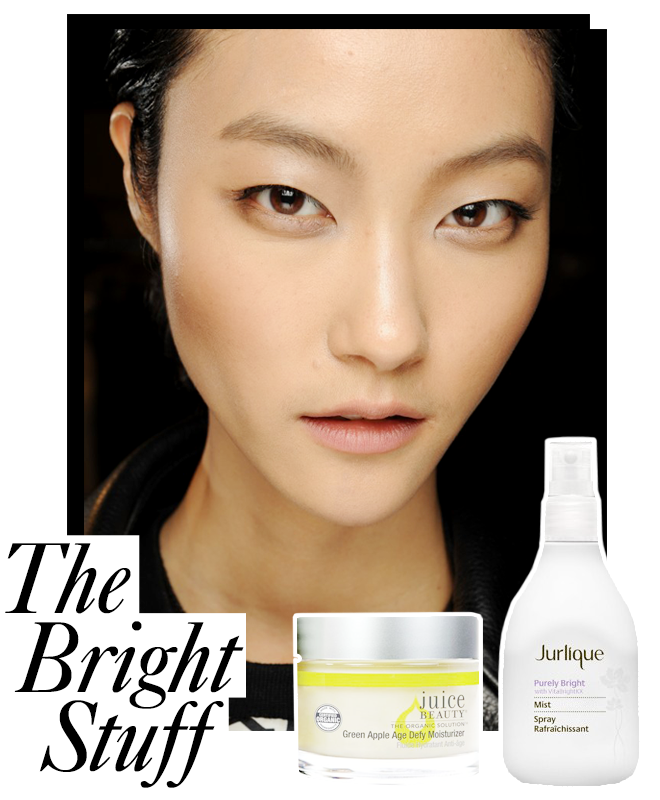 "Brightening" has been a beauty buzzword for some time now. But just what exactly are brightening products, how do they work, and why does your skin need them? We spoke to renowned New York dermatologist Dr. Howard Sobel, to get the latest — and lightest — on brightening products, their key ingredients and how they can make your skin look more beautiful.
What are they?
Brightening skin care, as the name suggests, are products that help us to just that, as Dr. Sobel explains. "Brightening products help to relieve those dark spots by doing just what the name says, brightening them!"
"Skin brightening products are great for a number of reasons, but they mostly help those who experience hyperpigmentation. Hyperpigmentation is usually caused by overexposure to the sun, and can leave unwanted dark spots on your skin. Using a brightener daily can help to lighten the skin and leave behind a natural glow," says Dr. Sobel.
How do they work? 
Powerful ingredients are at the base of most brightening formulas, enabling them to literally lighten or fade these clusters of melanin that deposit darker spots onto the skin.
"Vitamin C is a common active ingredient in products that help to lighten and brighten the skin — it works well in these products because it acts as an exfoliant while brightening current dark spots and preventing new ones from forming," says Dr. Sobel. "The next most common ingredient is hydroquinone," Sobel says. "Since brighteners can be harsh on skin and have dramatic side effects, a lot of products are now using plant-derived formulas to offer a natural approach to skin lightening."
Who are they for?
Hydroquinone is one ingredient that has scared many people with sensitive skin away from using brightening products. But as Dr. Sobel explains, all skin types can benefit from these products — it's just important to choose the right ones and use them correctly. "For those with sensitive skin, it's best to use products with as natural ingredients as possible. These people will benefit from the plant extracts and a mild form of vitamin C. It's also recommended to not use a brightener every day if one has sensitive skin — two to three times a week should be the norm," he suggests.
Products to try
We picked some of the brightest stars in the brightening category — some new, some cult favorites, and some classic. All will help the skin look more youthful and radiant, improving skin tone and texture for a more radiant finish.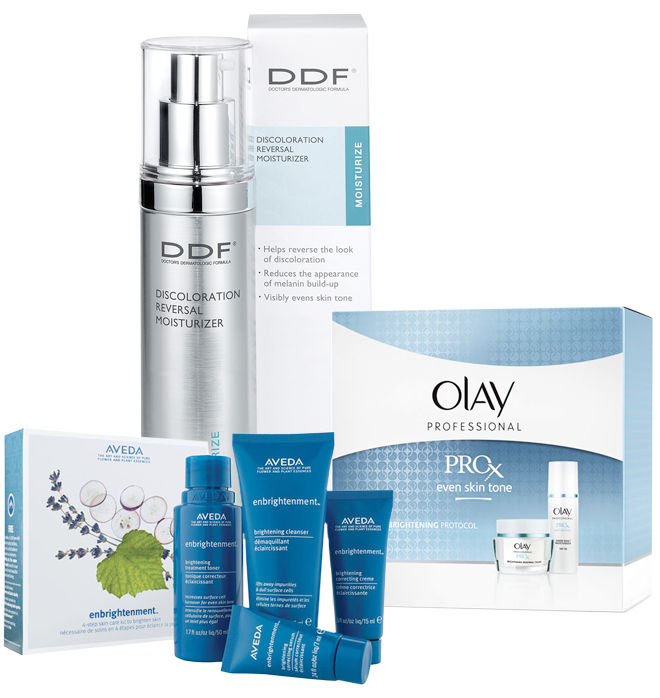 DDF Discoloration Reversal Moisturizer ($63.00, ddfskincare.com)
This moisturizer hydrates the skin overnight to help reduce the appearance of melanin build up, which helps to achieve younger looking skin.
Juice Beauty Age Defy Green Apple ($12.00 – $52.00, juicebeauty.com)
This line harnesses the natural power of fruit acids to help lighten, brighten and tighten the skin. Its age-defying ingredient list boasts an organic fruit acid complex and an antioxidant cocktail of peptides, DMAE, alpha lipoic acid and vitamin C.
Jurlique Purely Bright ($23.00 – $68.00, jurlique.com)
The Purely Bright products have a unique ingredient at their core — the native Australian Kakadu plum, which boasts 50 times the vitamin C content of oranges. (The Purely Bright Mist, $34.00, is a beauty bag must-have for many models and beauty insiders.)
Olay Professional Pro-X Even Skin Tone ($39.99 – $44.99, olay.com)
Using breakthrough ingredients, this new hydroquinone-free line from Olay helps to correct the look of four years of dark spots in just four weeks, with results comparable to the leading prescription gold standard, which is 4 percent hydroquinone. Not bad for a drugstore brand!
Aveda Enbrightenment Starter Kit ($60.00, aveda.com)
From the botanical ingredient innovators at Aveda, this brightening line's plant-powered formula has been clinically shown to reduce the appearance of dark spots by 34 percent.
Read more: Quick Fixes For Instantly Prettier Skin