Summer may be (nearly) gone, but it's determined not to be forgotten. Like the sand at the bottom of your bag or the Popsicle stain on your white jeans, the season's skin woes just won't take a hike. You know the ones — we're talking dark spots, uneven tone and the overall dullness that comes as a side effect of a sun-kissed complexion. Well, now's the time to leave it all behind and prep for fall. Here's how to get your skin back on track and reveal the glow beneath all the gunk.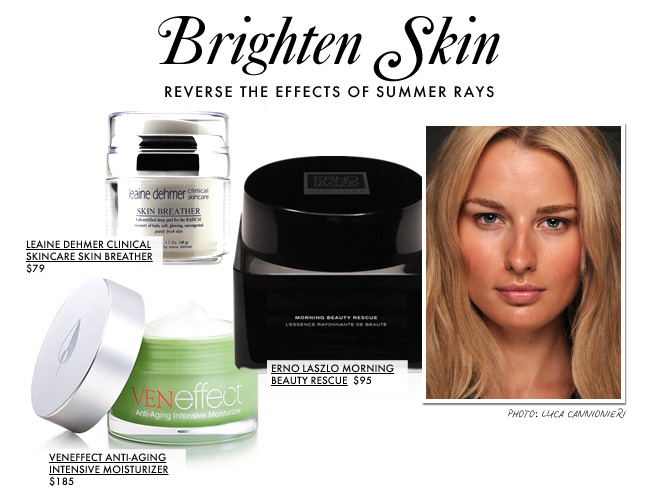 Start From The Inside
To get yourself on the right track, look at what you're eating. Rebecca Booth, M.D., hormonal wellness expert and co-founder of VENeffect Anti-Aging Skin Care recommends minimizing the white sugars and starches in your diet — they can cause blemishes and ruddiness — and instead, opting for whole grains. "Foods high in phytoestrogens, such as soybeans, nuts, chickpeas, legumes and lentils also improve collagen health, which help keep our skin wrinkle-free and luminous by stimulating fibroblasts, the cells that makes substances (like hyaluronic acid) that cause skin to glow."
Send Dead Skin Packing
The good news is that underneath any damage is fresh, glowing skin just waiting to surface. To rid your skin of dead cells on the epidermis, schedule a facial. The Brightening Facial at Blue Mercury spa ($165, Bluemercury.com for locations) features a glycolic peel to remove the top layer of skin and a vitamin C treatment to promote collagen health.
If you can't spare the time (or money) for a spa facial, try an at-home treatment to get similar results. Leaine Dehmer Clinical Skincare Skin Breather ($79, Lleainedehmer.com) is a peel that combines fruit enzymes, acids and peptides with round beads that buff away dead cells to reveal glowing skin.
Other products we love: Erno Laszlo Morning Beauty Rescue ($95, ernolaszlo.com), a brightening gel primer that boosts collagen production during the day, and VENeffect Anti-Aging Intensive Moisturizer ($185, veneffect.com), which uses plant-based phytoestrogens to improve skin's elasticity and tone.
Try A Brightening Quick-Fix
Give your bronzer a break and grab an illuminator, our go-to for instantly luminous skin. Opt for illuminators that have a mix of different shades to create a contoured look. We like Clé De Peau Beauté Luminizing Face Enhancer ($95, Barneys.com), Glo Minerals Shimmer Brick ($32.50, Gloprofessional.com) and Chanel Illuminating Powder With Shimmer ($65, Chanel.com).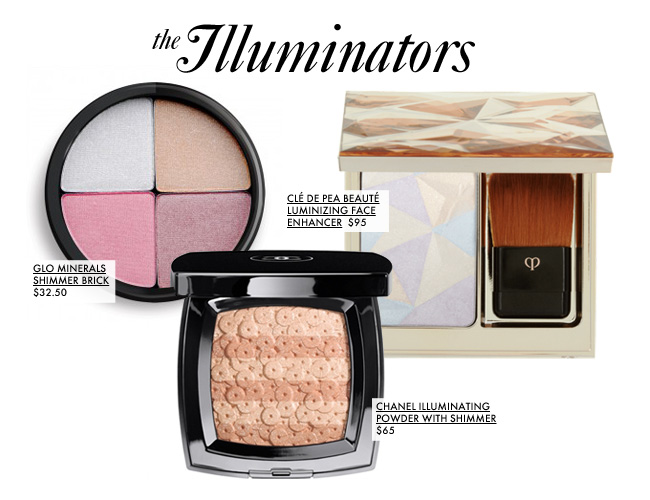 Keep The Glow Going
To preserve your healthy, bright complexion, stick to a twice-a-week exfoliating routine and don't skimp on sunscreen (even during the colder months). And most importantly, get your beauty rest. "Lack of sleep elevates stress hormones, wrecking your hormonal balance, [and] in turn, causing your skin to look lackluster," Dr. Booth told us. "Excess adrenaline from sleep deprivation can cause skin to be blotchy and increase perspiration, resulting in dehydration, skin dullness and sagging."
Are you ready to get your skin on the right track?