This wedding season, we're transforming real-life brides-to-be as part of our Real Girl Makeover series. First in the series is Carolyn, whose NYC nuptials call for a look with sophistication and modern elegance.
For brides, striking the right tone with hair and makeup is just as important as choosing the perfect dress or venue. The goal? To look like a more glamorous version of yourself without becoming a stranger to your friends and family — not to mention your future spouse.
"I think you always want to wear makeup that makes you feel special, whatever that makeup is for you and the place where you're getting married," said Kimberly Soane, Director of Global Artistry for Bobbi Brown Cosmetics. Soane created a makeup look for bride-to-be Carolyn, a blogger whose September wedding will be held at the Norwood Club, a private club and landmark townhouse in Manhattan.
"My style in general is uptown (classic, proper) meets downtown (eclectic and cool) and always modern," Carolyn explained. "I took a lot of inspiration from fashion editorials and the runway when planning the design and look of the event."
With all of this in mind, Soane created a classic, pretty look for Carolyn with a touch of drama on the eyes. After creating a "flawless" canvas on Carolyn's skin using Bobbi Brown BB Cream, concealers and pressed powder, Soane worked with a palette of pinks to get that "blushing bride" effect.
She layered Nude Pink Blush with brighter Pale Pink on the cheeks. "Layering two blush colors — a natural blush and a pop of blush — helps your blush last longer, because it fades throughout the day," Soane explained. "That's what gives it that brightness without being too clownlike."
On Carolyn's lips, she used Rose Petal Creamy Lip Color. "The lip is what we call her perfect pink nude. It's about looking at the color of her lip and finding the shade that's one to two shades pinker than her natural lip color," Soane said.
Soane chose Black Gel Eyeliner to play up Carolyn's eyes. "For Carolyn's eye shape, with more of an almond eye, you want to make sure that your liner's thick enough so that when the eye's open, you see the liner across the whole eyelid," she said. "If it's too thin, then you won't see it. So it's quite a thick liner." Sheer Ballet Sparkle Eyeshadow on the lids, individual false lashes and "tons" of Extreme Party Mascara finished off the look.
Soane's number one tip for creating this look? Use powder products. "That's what's going to last the longest. Carolyn's getting married in September, so it could be humid. You want to stay not as shiny, and cream products on the face just won't hold up."
Creating a look that would last from the first steps down the aisle to the final dance was also the focus for hair stylists Ryan Mitchell and Daniela Schult of Cutler Salons. The team chose a classic chignon for Carolyn, but added a modern twist by incorporating a straight side part with the sleek texture. "I think a side part's more flattering," Mitchell explained. Schult agreed, "It's a bit more modern and contemporary cool. Whereas pulled straight back is more ballerina-ish."
Mitchell and Schult created the look by first prepping Carolyn's hair with Cutler Volumizing Spray, then blow drying. "Blow dry the hair in the direction you want to go to prevent bumps in the hair when you pull it back," Mitchell advised. Once dry, they backcombed the hair section by section to create volume and shape, then twisted it into a bun and secured with pins. Finally, they cleaned up any flyaways with hairspray to add polish to the style. And the finished look? Wedding-worthy, for sure.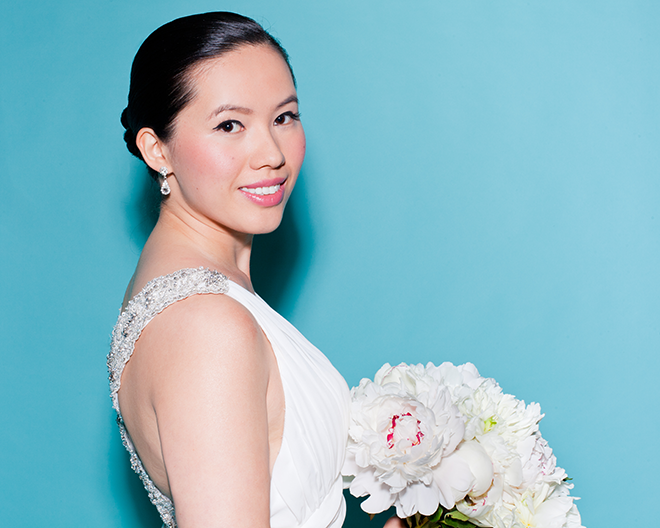 Credits:
Photos: Angela Pham
Hair: Ryan Mitchell and Daniela Schult for Cutler Salons
Makeup: Kimberly Soane for Bobbi Brown Cosmetics
Stylist: Ann Brady
Carolyn wears: Winnie Couture "Arya" dress (winniecouture.com); David's Bridal teardrop earrings ($15, davidsbridal.com)