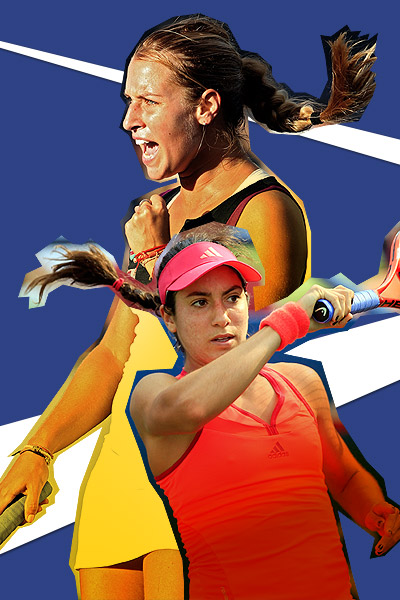 Photos: © Getty Images
It's official: The braid has completely taken over. Not content with conquering every runway, red carpet and fashion ad in existence, the über-girly hairstyle has now made its way into the sports world.
Find the best braid for you in the Makeover Studio!
The U.S. Open, long the domain of the humble ponytail, has been invaded by the long braid as nearly every elite, female tennis player in the competition has sported some sort of iteration of the look. What gives?
According to Jenna Goldate of the John Barrett Salon, it's just a natural progression. Goldate told The New York Times, "The fashion of tennis has been elevated, so the hair plays into that as well."
With everyone from the Williams sisters to Heidi Klum launching activewear, it was only a matter of time before fashion and sports collided. And since we don't anticipate world-class athletes sporting knee-high velvet boots on the court anytime soon, the most obvious way for them to express their fashion sense is through their hair.
Athletes love braids for the same reason we do: They keep your hair off your face and look hip and pretty in the process. We wouldn't be surprised if we start seeing variations of the braid popping up in other sports. Can braided buns, fishtail plaits or milkmaid braids on the field be far off?
What do you think of athletes wearing trendy hairstyles?


Try on braids in the Makeover Studio!