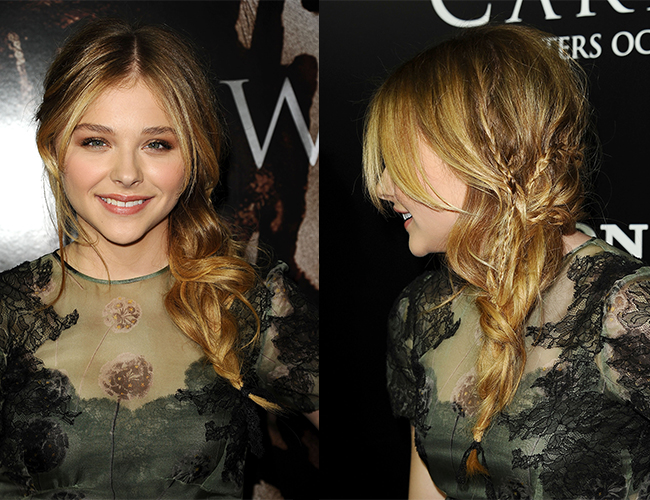 It's more and more evident every day that Chloe Grace Moretz is destined for stardom. Her attention-grabbing roles in "Kick Ass 2" and "Dark Shadows" landed her at the top of the list as the actress to play Carrie in the remake of the 1976 horror film. Last night at the movie's premiere in Los Angeles, the actress proved that she could wow both on screen and off, especially on the red carpet. When we saw the loose, romantic braid that Chloe donned for the red carpet, we instantly needed to know more.
MORE: Get the Look: Romantic Hair Inspired by CW's "Reign" 
Celebrity hairstylist Gregory Russell worked with Chloe for the big night and gave us the low down on how to get the look for ourselves. "We were inspired by the beautiful Valentino dress to create a loose romantic, braid," Gregory says. He began by using Kevin Murphy Easy Rider Anti-Frizz Crème in Chloe's damp hair starting at the ends, working the product through the hair then parting in the center. He then started rough drying her hair, blowing out the hairline and top of the hair with a round brush. Next, using a 1.25″ curling iron, he curled random sections of hair for extra texture. After that, he brushed through the hair with his hands and sectioned out a few pieces on the sides to create the smaller braids that would go through the larger braid. Last, he braided the hair to the side and secured it at the bottom with black lace.
Image via Jason LaVeris/FilmMagic