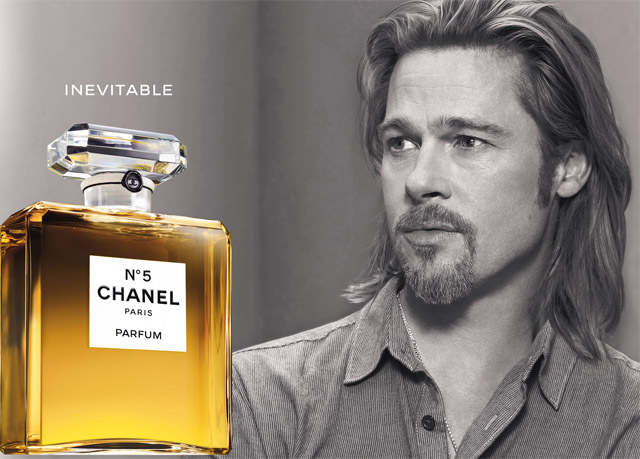 The first Chanel No.5 campaign featuring Brad Pitt is finally here (after much discussion, and many weeks of being teased with short clips) and we have to say – we're just a bit disappointed. The image, shot by Sam Taylor-Johnson, is just a typical, scruffy Pitt looking off into the distance (not that he looks bad or anything – as if he even could, but we were crossing our fingers that Chanel would clean Pitt up a bit, in honor of No.5).
The first film clip, directed by Joe Wright and entitled "There You Are" features Pitt speaking to the camera in a manner that we can only assume is supposed to make us believe he is speaking to us (the viewer) and about us, as he describes life and the journey that is – yet, it seems just so unlike the Brad Pitt that we have all come to love.
Many questioned the casting of Pitt for the Chanel No.5 campaign in the first place (but were excited nonetheless, because well, it was Brad Pitt), but perhaps this first 30 second clip goes to show that unless the celebrity that you have cast fits the brand, or you format the campaign around that celebrity, it just may not synch up. Watch the new video and let us know what you guys think of the pairing. Do you like the first clip from the campaign, or do you simply like staring at Brad Pitt? And obviously we have to ask, is that good enough?