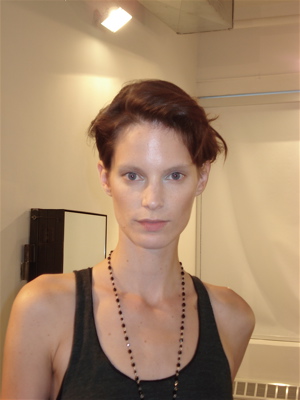 The "boyish girl" look.
It was the classic Hollywood love story of boy-meets-girl at Preen but with one twist — there weren't any boys walking the catwalk.
Bumble and bumble lead stylist Laurent Philippon created two looks; a boyish girl "quiff" style and a loose, slightly textured girlish style. For the boyish style, he sprayed hair with Surf Spray, then blew dry and tousled hair to create texture. He created a volumized pouf on top and flat sides for a "rock 'n roll look that's not too literal."
For the more feminine style, it was all about simplicity and texture. Hair was parted down the middle and sprayed all over with Surf Spray to create a light, subtle texture. He then tucked the hair behind the models ear to create a simple, modern and totally wearable hairstyle. "I wanted the girls to look their best," said Philippon. "I wanted people to relate to their beauty."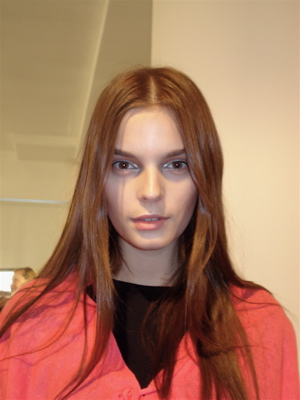 The textured, girly look.
To continue with the boy-meets-girl theme, MAC lead makeup artist James Kaliardos left skin natural and used contouring powder around the eyes and temples and in the eye socket to create a defined, almost masculine feel to the look. He added a touch of femininity by applying a platinum silver shadow on the inner corner of the eye. Lashes were curled and left free of mascara.
On the lips Kaliardos worked a bit of "movie make-up magic" and used a white pencil to line the cupid's bow of the lip. He then blended it in to create an effect where the skin above the cupid's bow looked slightly paler and more defined. The bottom of lips were subtly lined with a powder blush and then blended to enhance definition. The overall effect was slightly androgynous with an ethereal air.